As someone who is passionate about travel and spirituality, visiting Israel – The Holy Land had always been a dream of mine. I had seen countless pictures and heard stories about the sacred sites and rich religious history of the region, but nothing could have prepared me for the profound experience I would have during my journey.
From the moment I arrived, I was struck by the deep sense of spirituality that permeated the country. Everywhere I looked, there were reminders of the religious significance of the region, from ancient ruins to the bustling streets of Jerusalem.
Connecting with the Spirit of the Land
As I journeyed through the Holy Land, I found myself drawn to the spiritual energy of the region. Whether it was visiting the holy sites of the three Abrahamic religions – Judaism, Christianity, and Islam – or exploring the natural beauty of the desert landscape, I felt a deep sense of awe and reverence.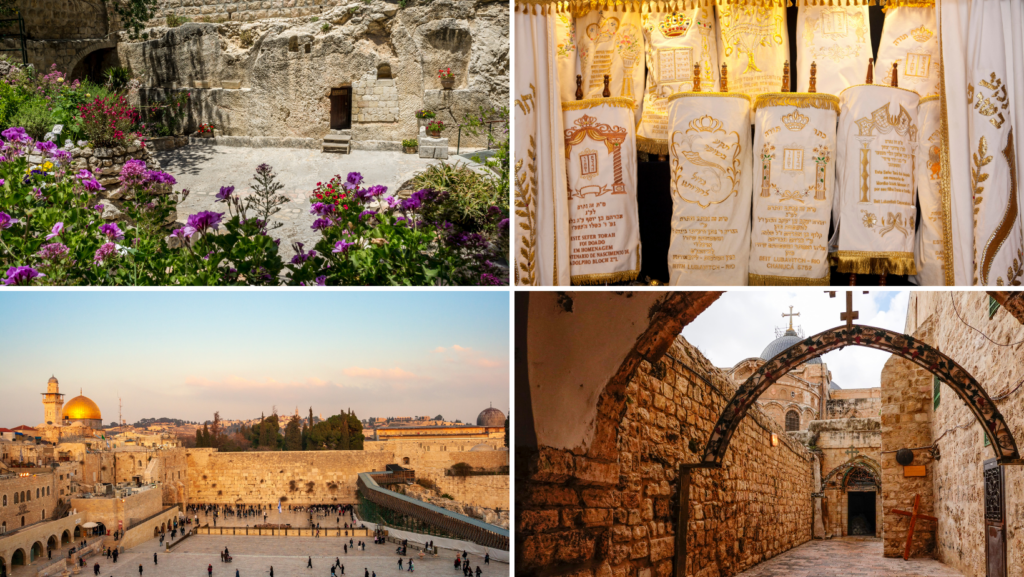 One of the most powerful experiences for me was visiting the Church of the Holy Sepulchre, where Jesus was believed to have been crucified and buried. As I stood in the courtyard looking up at the ancient structure, I knew I was going to be overcome with emotion as I walked through the Church, saw the place where Jesus is believed to have been crucified, touched the Stone of Unction (the stone Jesus was laid on to be prepared for burial), and visited the Tomb of Jesus. It was a powerful reminder of the sacrifice that Jesus made for all of us and I felt a deep sense of gratitude and awe.
Visiting the Western Wall, one of Judaism's most sacred sites, was profound. As I stood before the ancient stones, I felt a deep connection to the history and spirituality of the Jewish people. It was a moving experience that brought tears to my eyes.
Another highlight of the trip was visiting the Sea of Galilee, where Jesus spent much of his ministry. When I stood at shore and gazed out at the serene beauty of the lake and surrounding mountains, I felt overwhelmed. Seeing the water, feeling the wind on my face and recalling the stories in the Bible of Jesus feeding the 3000, walking on water or, my favorite, when Peter walked to Jesus on the water and Jesus reminded him to not take his eyes off of Him. To say it was life-changing would be an understatement. I knew I was standing where Jesus had been and I felt His presence immensely.
Deepening My Faith
As I continued to journey through the Holy Land, I found that my faith was deepening in unexpected ways. Being immersed in the ancient and sacred history of the region helped me connect with my faith on a deeper level. I felt a renewed sense of purpose and meaning in my life, and a greater appreciation for the love and mercy of God.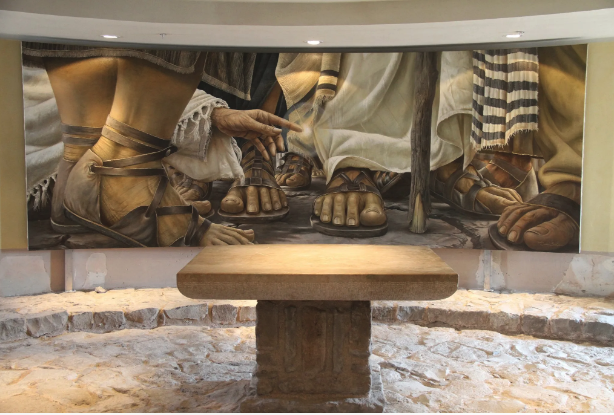 The experience of witnessing our fellow travelers getting baptized in the Jordan River was truly unforgettable. Although my husband and I chose to wait and plan a return trip with our daughters to experience that moment together, we were still able to feel the powerful connection with the sacred waters. The pastor who performed the baptisms was remarkable, sharing his testimony and making us feel like we were all part of his spiritual family and our brother in Christ. The day was filled with genuine moments of faith and reaffirmation, and it was incredible to see our friends experience such a profound connection to their spirituality. Even those who did not get baptized that day had their own transformative moments, and we all left feeling renewed and uplifted. Being a part of this spiritual experience was truly one of the most amazing moments of my life, and I know that our friends felt the same way.
One particularly powerful moment for me was in Magdala at the Chapel of the Encounter. The Chapel of the Encounter is a beautiful and significant place for visitors to Magdala. It is believed that this is the site where Jesus encountered a sick woman, who reached out to touch the hem of His garment in hope of being healed. Seeing the woman reaching out to touch Jesus's clothes reminded me of the hope, faith, and healing that I held onto during some of my darkest moments. The image of this encounter and standing in this place truly moved me in ways I never thought possible. A friend with us began to sing Holy Ground while we all stood in silence, taking in the moment. When I think about it now, I am transported back to those feelings of chills, tears and overwhelming joy.
Growing Closer to Jesus
Since returning home, I've found that my relationship with Jesus has grown closer. I feel a greater sense of connection to Him, and a deeper understanding of His teachings and sacrifice. It's as if the journey to the Holy Land has given me a new perspective and appreciation for my faith, and a renewed commitment to living out His teachings in my daily life.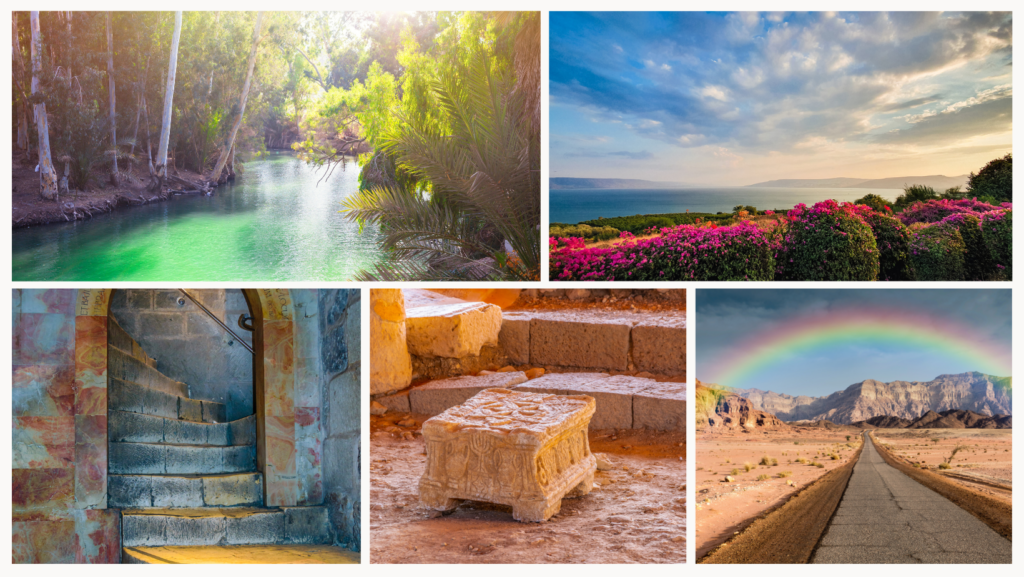 As someone who has always found comfort in my faith, my travels to the Holy Land have been nothing short of life-changing. The chance to physically explore the sites and locations that are mentioned in the Bible has brought an entirely new level of depth to my spiritual practice. The stories that I had read so many times before have come alive in full, vivid detail in my mind's eye. I can now see the rolling hills and sparkling waters of the Sea of Galilee, and imagine the sun-drenched streets of Jerusalem bustling with the energy of the crowds. This experience has transformed my relationship with my faith, making it more personal and tangible than ever before. I will forever treasure the memories and spiritual growth that I experienced on this remarkable journey, and I eagerly look forward to returning to the Holy Land to explore even more.
A Journey to the Holy Land: Join Me in February 2024
As I've mentioned before, I believe that visiting the Holy Land is more than just a travel experience. It's a journey of spiritual growth and self-discovery, and an opportunity to deepen our connection with God and our faith.
That's why I'm extending an invitation to all of you to join me on this journey. Imagine exploring the ancient and sacred sites of Jerusalem, walking in the footsteps of Jesus in Nazareth, and floating in the serene waters of the Dead Sea. Together, we'll experience the beauty and spirituality of this sacred destination, and deepen our understanding of our shared faith.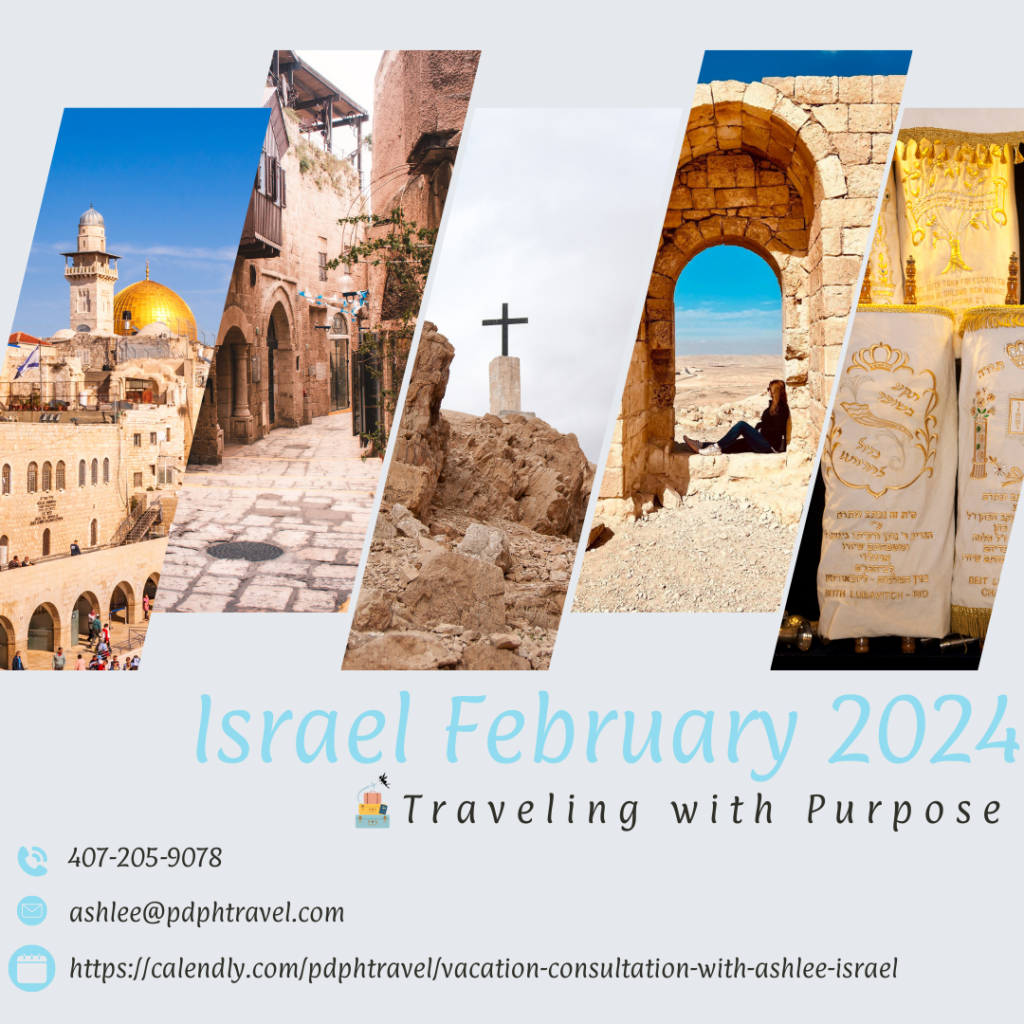 Discover the Holy Land
Throughout our trip, we will visit places such as Tel Aviv, Jaffa, Caesarea, Peter's House, Armageddon, Nazareth, The Galilee, Valley of Bethsaida, Mount of Beatitudes, Golan Heights, Jerusalem, Dead Sea, Masada, the Judean Desert, Bethlehem, and the Garden Tomb. Each of these places has a rich history and significance to the Christian faith that we will explore together.
A Unique and Personal Experience
This is not your typical tour group experience – our itinerary is handcrafted to provide a unique and personal journey for each traveler. We will immerse ourselves in the local culture, meeting with local residents, and experiencing the vibrant and dynamic life of Israel.
Our journey will be led by experienced guides and experts in the history and spirituality of the region, and we'll travel in a small, intimate group that allows us to build strong connections with each other and the people we meet along the way.
Join Me on a Journey of Spiritual Growth
If you're seeking spiritual growth, connection, and adventure, then I invite you to join me on this journey to Israel – The Holy Land. Together, we'll deepen our faith, create meaningful memories, and form lifelong connections with fellow travelers and locals alike.
I'm so excited to share this journey with all of you, and I can't wait to explore the beauty and spirituality of the Holy Land together. If you're interested in joining me, please reach out and we can connect to discuss the details of the trip. Let's embark on this journey of a lifetime together!