If lazy rivers make you want to snooze, here are our picks for the top 3 thrills at Disney's Typhoon Lagoon!

3. Mayday Falls
Guests of any height can take a trip down Mount Mayday on a single-rider inner tube. This medium wild ride starts at Miss Tilly, the shipwrecked shrimp boat on top of Mount Mayday and icon of Disney's Typhoon Lagoon, and twists and turns through caves, under bridges and past waterfalls! One of 3 Falls raft rides that include Keelhaul Falls and Gang Plank Falls, Mayday Falls is the most intense.

2. Crush 'N' Gusher
Guests 48 inches and taller are invited to grab a friend and pick a "fruit chute" as they take a wild raft ride down 400-foot-long tube slides. According to legend, fruit was washed here prior to packing when the plant was still operating—before the big typhoon. Whether you choose Pineapple Plunger, Coconut Crusher or Banana Blaster, you are sure to catch big air as you make your way through dark and open turns and dips on your way down to Hideaway Bay.

1. Humunga Kowabunga
For the ultimate thrill seeker, take a ride down the Humunga Kowabunga! Guests 48 inches or taller are invited to experience a near vertical drop, 5-story drop. Did we mention it was in the dark?? Three side by side enclosed body slides provide the means to drop you at a 60 degree angle down 214 feet in mere seconds. We know you'll be screaming, but can you scream "Kowabunga"?
Are you a water park thrill seeker or lazy river rafter?
Don't forget: If you book an agency exclusive with our friends at Pixie Dust and Pirate Hooks, you will be eligible to receive a free admission to the water park of your choice!
Are you ready to plan your magical trip? Contact our friends at Pixie Dust and Pirate Hooks. Click here to submit a quote request.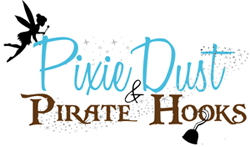 From the moment you contact us, we begin creating magic! Bring all of your hopes, dreams and wishes to us and we can create a vacation perfectly fit for your family. We are the experts. Let us handle everything for you so you can focus on your family!
Photos:  Walt Disney Travel Company