Recently, I surprised my husband Chris with a weekend getaway to Walt Disney World.  It was a fun conversation to have with our three girls… "yes girls, Mommy and Daddy are going to Disney World—without you!"  I had big goals for this weekend and to make the most of our time.  We had many rides we had never even experienced together.  It seems in the previous trips to Disney World we either split and did the rider swap with the little ones, or I was pregnant and couldn't ride.  To say we were excited for this adventure was understatement.  We checked in at Boardwalk Friday night, and had our plan in place for Saturday.
On Saturday morning, Magic Kingdom opened at 8 am.  We planned to be downstairs and at the bus stop by 7 am.  What was even more amazing—we made it!  Here was our plan…we wanted to start in Adventureland and work our way around the park.  Here is how it all went down:  Jungle Cruise, Pirates of the Caribbean, Big Thunder Mountain, Splash Mountain, Space Mountain, Tomorrowland Speedway, and Buzz Lightyear Space Ranger Spin.  We even made time for a few Photopass spots and snacks!  We timed ourselves and we had checked off everything on our itinerary in 2.5 hours.  We did not use any fastpasses this morning because we were saving them for later that evening. We scooted over to Animal Kingdom to have lunch at Yak and Yeti and check out the new Pandora, World of Avatar!  We then went back to the resort to enjoy time by the pool before heading back to Magic Kingdom for a few more rides and to view "Happily Ever After," Magic Kingdom's newest night time spectacular–It was nothing short of amazing!
Sunday, our plan was Hollywood Studios and Epcot.  We got to experience Rock 'n' Roller Coaster Starring Aerosmith, and Tower of Terror together for the first time ever (again always pregnant or rider swap!) We also did Star Tours immediately followed by The Great Movie Ride because I needed to get myself back in check. We ended our morning with none other than Toy Story Mania!  We took a nice boat ride over to Epcot and did a little World Showcase tour before eating at one of our favorites Via Napoli.  We ended our day back at Magic Kingdom because just one viewing of "Happily Ever After" just wasn't enough for me.  We rode a few more rides before calling it a night!
Just like that our whirlwind Disney World adventure came to an end.  We had such an amazing time doing the adult side of Disney.  It is amazing how much time we gained without our three girls in tow.  We got to enjoy rides we had never experienced in our 13 years together, but the time had come and we had to get back home to three little princesses.  We will definitely do this again!
---
Are you ready to plan your magical trip? Contact Rebecca Carter at Pixie Dust and Pirate Hooks. Click here to submit a quote request.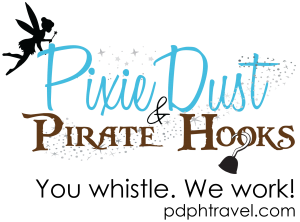 When you book your trip with Pixie Dust and Pirate Hooks, we handle everything from start to finish. We book your resort, all of your dining, fastpasses and special events. We provide a detailed itinerary for your trip with special tips that will make your trip extra magical! Think of us as your personal assistant. We are available anytime to answer questions by phone, email or text.
Photo credit – Rebecca Carter