A new restaurant has just opened in the Japan Pavilion at Epcot called Takumi-Tei. It is a new signature service restaurant that will allow you to enjoy an upscale dining experience. The entire Takumi-Tei experience is focused on giving you a better understanding of Japanese culture and this will be explained to you by the Japanese cultural representatives that will greet you. From the time you walk in to the moment you put down your chopsticks for the last time, you will learn about Japanese traditions and their connection to the natural world.
There will be a prix fixe multi-course tasting menu and a chef's table experience, the dinner menu will highlight wagyu beef in a beautiful setting along with sushi, sashimi, unique desserts, signature cocktails, premium sake and much more.
You can start your meal with appetizers like Teien (meaning "garden" and featuring compressed watermelon and tuna sashimi), Nikomi Wagyu (braised wagyu short rib with roasted bone marrow), or Hama no Kani ("Crab on the Beach" featuring crab tossed in a light ponzu sauce as well whole toasted crab).There is also a vegetarian option – Agedashi Tofu with fried silken tofu, brown butter black rice and shimeji mushroom.
Entrées include delicate dishes like Kamo Rosu and Takumi Gyuniku. The Kamo Rosu features roasted marinated duck with kabocha squash, edamame beans, Japanese mizuna, cured duck egg yolk, and a grape reduction. The Takumi Gyuniku, or artisan beef, showcases a Japanese A-5 wagyu beef tenderloin with leek sauce, warishita, short rib gyoza, roast cippolini onion, curried potato, and seasonal mushroom.
For the sushi and sashimi fans, there are some delicious options. On the Maki Sushi menu, you'll find Mozaiku (featuring tuna, yellowtail and asparagus). You can also try the Temari Sushi featuring a chef-selected assortment of oceanic delicacies. Or if sashimi is more your style, the Takumi Sashimi entrée features tuna, toro, salmon, yellowtail, uni and ikura.
Make sure to save room for dessert! Two choice selections include Kumo (yuzu cheesecake, spiced kabocha, orange yuzu gel and blackberry sake) or Suiren Dani (Water Lilly Valley featuring Japanese water cake, rose, kuromitsu and kinako crumb).
There is also an extensive beverage menu with premium sake, wine, beer and cocktails. Specialty cocktails are themed to each of the five dining rooms and include Kochi (Joto Yuzu citrus sake, rum, fresh mint, yuzu juice and orange), Raiju (Haku Japanese vodka, spiced ginger beer and lime), Sakurajima (Japanese whisky sour smoked with cherrywood), and Kami (Roku gin, Sayuri "White Lilly" Nigori sake, calipco and lychee).
As of today, Takumi-Tei is open for dinner in the Japan pavilion at Epcot starting at 4 p.m. daily. Walk-ups are currently being accepted, and reservations will be available beginning July 16, 2019, with bookings starting that same day. For more information, visit the Walt Disney World Resort website or call (407) WDW-DINE. To make reservations for the Chef's Table Dining Experience, call Mitsukoshi directly at (407) 827-8504.

Are you ready to plan your next trip to Walt Disney World? Contact Kristin Perry at Pixie Dust & Pirate Hooks!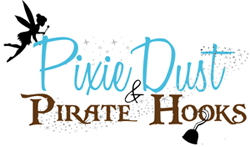 From the moment you contact us, we begin creating magic! Bring all of your hopes, dreams and wishes to us and we can create a vacation perfectly fit for your family. We are the experts. Let us handle everything for you so you can focus on your family!
Photos by Disney Parks Blog