As the, much-anticipated, opening of Star Wars: Galaxy's Edge approaches new details are starting to emerge about just how expansive and immersive this new land will be. Decades of collaboration between Walt Disney Imagineering and Lucasfilm Ltd. will result in 14 acres of a wholly immersive Star Wars universe at the Disneyland Resort and Walt Disney World Resort. Humans will be transported to the planet of Batuu where they will discover Black Spire Outpost, an infamous port for smugglers, explorers and traders.
In their efforts to defeat the First Order, The Resistance has set up shop in an abandoned ancient base surrounded by forests, mountains and rivers on the outskirts of Black Spire Outpost. Guests will see familiar faces as they explore the land including Rey, Chewbacca, BB-8, Poe Dameron, and Finn…and maybe even a few foes from the First Order.
Experiences at both Disneyland and Walt Disney World will be the same with two thrilling attractions coming as well as a plethora of dining, shopping and immersive experiences. Millennium Falcon: Smuggler's Run will find guests climbing into the cockpit acting in one of three roles: pilot, flight engineer, or gunner. Robin Reardon, portfolio executive producer, Walt Disney Imagineering, states that "the payoff and participatory nature of the experience are, so far, unparalleled."
The second attraction, Star Wars: Rise of the Resistance, will be one of the most advanced experiences ever undertaken by Walt Disney Imagineering. Guest's journey's will take them inside a full-size starship and Star Destroyer as new recruits to the Resistance, where they will find themselves in the midst of a cinematic battle against the First Order, including a run-in with Kylo Ren. Reardon promises that Star Wars: Rise of the Resistance will be filled with "experiential, jaw-dropping, how-did-they-do-that? moments."
Fans of the Star Wars universe are already salivating at the thought of sampling blue milk and other fares that they would find in the galaxy far far away. Not to worry, there will be plenty of opportunities to get your grub on in Black Spire Outpost.
Oga's Cantina – This much-anticipated location will be best spot to grab some local beverages and enjoy the musical stylings of everyone's old friend, DJ R-3X. Alcoholic Beverage selections will include Bespin Fizz, Bloody Rancor, Dagobah Slug Slinger, Fuzzy Tauntaun, Jedi Mind Trick, Jet Juice, The Outer Rim, Spriran Caf, T-16 Skyhopper, and Yub-Nub. Non-alcoholic options will include Black Spire Brew, Blue Bantha, Carbon Freeze, Cliff Dweller, Hyperdrive Punch It!, Jabba Juice, Moogan Tea, and Tarine Tea.
Docking Bay 7 Food and Cargo – Chef Strono "Cookie" Tuggs has converted his modified Sienar-Chall Utilipede-Transport into a mobile kitchen bringing his many dishes from when he worked as Maz Kanata's chef. Guest can choose from several options including the Braised Shaak Roast, featuring beef pot roast with cavatelli pasta, kale and mushrooms; the Friend Endorian Tip-Yip, a chicken dish with roasted vegetable mash and herb gravy; and the Felucian Garden Spread, a plant-based Kefta "meatball" dish with herb hummus and tomato-cucumber relish with pita bread, just to name a few.
Ronto Roasters – A Recycled pod racing engine fires up a spit of exotic meats turned by a former smelting droid 8D-J8 (who likes to complain). Guests can try Turkey Jerky and the Ronto Wrap with filled with spiced grilled sausage and roasted pork. A selection of non-alcoholic beverages will also be an option here including Sour Sarlacc and the Tatooine Sunset.
Milk Stand – The go-to location for, you guessed it…farm-fresh blue milk or green milk straight from Bubo Wamba Family Farms.
Kat Saka's Kettle – Be sure to try the popular Outpost Mix, a blend of sweet, savory, and spicy popcorn.
Galaxy gear will be found around every turn at Black Spire Outpost. The Droid Depot will invite guests to pick parts and pieces off a conveyor belt to build their own droid that will be able to interact with the environment and respond to guest behaviors. Additional programming chips will allow guest to customize their droid even more.
Savi's Workshop will be a place where guests can customize their own light saber. Guests will have the option to choose between 4 different kyber crystals to power their light saber. Peace Justice (modeled after Jedi from the Republic era), Power Control (a nod to the Sith), Elemental Nature (harnessing earth, wind, fire and water) and Defense (shrouded in mystery). Which side of the Force will you embrace?
Dok-Ondar's Den of Antiquities will house a selection of rare and mysterious items for sale representing different eras of the Star Wars galaxy. As you explore you may even find Dok at his desk checking inventory, taking calls, and barking orders. The Toydarian Toymaker and Creature Stall will offer plush of various friendly and not-so-friendly creatures as well as artisan crafted toys first seen buzzing around Anakin Skywalker in Star Wars: The Phantom Menace.
As we approach the summer opening of Star Wars: Galaxy's Edge this summer at the Disneyland Resort and fall at the Walt Disney World Resort guests will be given even more sneak peeks inside the mysterious planet of Batuu and all that awaits the many travelers to a galaxy far far away.
If you are ready to plan your next magical vacation to experience this incredible new land at Disneyland or Walt Disney World contact Randi Jordan at Pixie Dust and Pirate Hooks.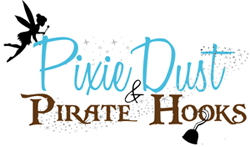 From the moment you contact us, we begin creating magic! Bring all of your hopes, dreams and wishes to us and we can create a vacation perfectly fit for your family. We are the experts. Let us handle everything for you so you can focus on your family!
Photos courtesy of Disney