On Deck 11, near Cabanas, you can find a sweet little shop filled with candies of all kinds, cookies, gelato, milk shakes, cupcakes, candy apples, and so much more. Vanellope's Sweets & Treats is located on the Disney Dream and is a great way to upgrade a dessert or sweet treat experience on the ship.
The décor is straight out of the Wreck It Ralph movie (which reminds me to be excited about the sequel coming out soon!!!!)!  Everything is themed in this adorable little shop from the roadway flooring, to the candy light fixtures and the leader board style menu.  Vanellope's race car is even in the shop, and you can see her hanging from one of the striped candy trees in the shop.  King Candy is also there to announce at the winner's podium!
You can purchase loose candy by weight, prepackaged candies and treats, or order something that has been made fresh.  The gelato is made in house and there are a variety of flavors to choose from like, chocolate, cinnamon bun, captain crunch, and pina colada! In addition to the delicious gelato, they also have ice cream in a variety of flavors.  You can create your own sundae or milkshake, or you can choose from one of their signature menu items.  There are also glass cases which house the freshly baked treats such as cupcakes, cookies, and candy apples.
If you are feeling brave, you can try one of the challenge sundaes! The Ralph's Family Challenge ($20), has 5 scoops of ice cream and comes in a trophy souvenir bowl and the Vanellope's GO-Cart Sundae ($13) offers three scoops and a souvenir racer bowl.
Overall, I think this is a super cute addition to the offerings of specialty food items on board the Disney Cruise Line, Disney Dream. In my opinion, the prices are very reasonable.  Everything in this shop does have an extra charge and isn't included in your cruise fare. If you don't want to purchase anything but want to try a few flavors, the cast members are more than happy to give you a few free samples!  Either way, it is a cute place to visit and there are some great opportunities for some photo ops!
Are you ready to plan your magical trip? Contact Kimberlie Buxton at Pixie Dust & Pirate Hooks. Click here to submit a quote request.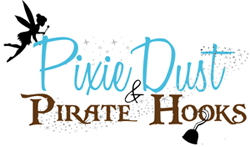 From the moment you contact us, we begin creating magic! Bring all of your hopes, dreams and wishes to us and we can create a vacation perfectly fit for your family. We are the experts. Let us handle everything for you so you can focus on your family!
Photos by Kimberlie Buxton