Winnie the Pooh had the right thing in mind when he said, "What could be more important than a little something to eat." When we plan our Disney trips I make sure to plan our meals and itinerary around snacks. Here you will find our favorite must-try snacks in all 6 of Magic Kingdom's "Lands". We even make it a challenge to have a snack in every land.
Liberty Square –First up is my favorite snack in all of Magic Kingdom, Fresh Fruit Waffle Sandwich at Sleepy Hollow. A waffle filled with fresh fruit and a hazelnut spread (yummm!).
In Liberty Square you can find Sleepy Hollow and Liberty Square Market. Each have a different variety of snacks. Liberty Square Market has the very popular Turkey Leg , as well as the Mickey Pretzel. At Sleepy Hollow you will find Mickey Waffles, Fresh Fruit Waffle Sandwich, Vanilla Ice Cream Churro Sandwich, and more.
Adventureland- Arguably everyone's favorite snack stop. Here you can find the even the infamous Dole Whip.
Aloha Isle and Sunshine Terrace have both citrus frozen treats. This is the only location in Magic Kingdom you can find a Dole Whip so if you're in Tomorrowland and you hear someone saying they are looking for a Dole Whip, be a pro and tell them where they can find it!
Frontierland- While this land isn't known for "snacking" never fear "Westward Ho". Which is conveniently the name of their snack shack.
Here you can find candied bacon and a sweet and sour chicken skewer. If you are wanting a shareable snack the Happy Trail Mix is a fun mix of house made marshmallows, pretzels, chocolate gems and mixed nuts.
Fantasyland: Home to my second favorite, never missed snack, LeFou's Brew. Technically this isn't a snack, but I will never visit Magic Kingdom without this amazingly delicious drink. It consists of a no-sugar added frozen apple juice with a hint of toasted marshmallow, topped with all-natural passion fruit-mango foam. You can find LeFou's Brew at Gaston's Tavern.
Fantasyland may be one of the top spots for snack goers. There are so many amazing options. Due to the differences in each snack stop I have broken them down by their names.
Gaston's Tavern: Along with LeFou's Brew you can find a cinnamon roll the size of your head, kidding, but it is really big. You can also pick up a quick sandwich, macarons, and other options as well.
Cheshire Cafe: Here you find the Cheshire Cat Tail, one of the most instagrammable snacks I have ever seen. The Cheshire Cat Tail is a flaky pastry filled with cream filling and chocolate chips topped with colorful icing. If you're a cold brew fan I have heard this is one of the best Cold Brews in the park.
Storybook Treats: Here you find exactly what you would expect, TREATS! Peter Pan Float: DOLE Whip® Lime Soft-serve, Sprite® and a Chocolate Feather, Minnie's Cookie Dough Sundae, Arendelle Aqua Cone: Cotton Candy Soft-serve, Cotton Candy Sugar Sprinkles, and a Mickey Sugar Cube, and many more sweet treats.
Prince Eric's Village Market: If you aren't up for a walk to Sleepy Hollow here is where you can also find the Turkey Leg. Any mermaid fans? The Mermaid Donut is a favorite among the littles, and adults too. The Mermaid donut is a
yeast Donut with Purple Icing and Sprinkles topped with White-Chocolate Treasures from Ariel's Grotto.
Tomorrowland: Home to two great snack options: Auntie Gravity's Galactic Goodies and Cool Ship. Auntie Gravity's has one of the best milkshakes I have ever had. She even has seasonal milkshakes such as a Pumpkin Spice Milkshake. Cool Ship has Churros, Churros, and Churros (need I say more).
Main Street, U.S.A : The first stop for most, but the last for me. I savor Main Street, It's the place that makes me feel "home", has the best shopping, and the most memorable snacks.
Main Street Confectionery is what you smell when you step foot into Magic Kingdom, the sweet savory smell of cotton candy and candy apples with a little dash of salty popcorn, this is what dreams are made of. The Plaza Ice Cream Parlor is where you can find ice cream sundaes galore, they even serve no-sugar added and fat-free flavors. The Main Street Bakery is where coffee (Starbucks) lovers go! The bakery is home to the typical Starbucks drinks. Pink Drink anyone? Main Street U.S.A is always my last stop for treats.
You can start your snack contest in any land, and the snack options are endless. I hope you use this guide to help plan your Walt Disney World trip as well as any of our wonderful agents. If you haven't booked your Walt Disney World trip yet please feel free to contact us for a non-obligatory quote. Click here to contact Kailey Ryan at Pixie Dust and Pirate Hooks.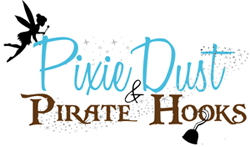 From the moment you contact us, we begin creating magic! Bring all of your hopes, dreams and wishes to us and we can create a vacation perfectly fit for your family. We are the experts. Let us handle everything for you so you can focus on your family!
Photo Credit: Walt Disney World & @WDWOW