My family recently did the 4 night Bahamian sailing on the Disney Dream and one of the ultimate highlights for everyone in our travelling party (ranging in age from 8-53) was Pirate Night! There was so much to enjoy–from movies, pirate themed activities, free goodies, character meet & greets, deck parties, fireworks, and a late night pirate themed buffet at Cabanas!  It was a full afternoon of fun! Check out all that we participated in during Pirate Night and get ready to book your cruise to enjoy it with your family!
Pirate Party Prep:
We knew our sailing was having a pirate night, so we brought along some fun dress up items for my daughter and a few accessories for the grown ups.  One awesome thing that Disney Cruise Line does is give everyone free pirate themed bandanas to accessorize with.  I used mine for a head band, while my dad enjoyed wearing it as a bandana on his head! The stateroom host will leave them for you on your bed during the day before Pirate Night!  We scored an affordable costume at a party store after Halloween!
Character Meet & Greet and Pirate Themed Family Fun:
One of the character meet & greets that we LOVED was meeting Jack Sparrow! He was amazing and so true to character.  As you can see in the photo, he is rocking his classic eye roll! The other characters available to meet that day were dressed in their pirate best–which make for some pretty adorable family cruise pictures! (My favorite was Minnie's pirate costume!)
We did a family pirate activity in the D Lounge.  For this, we were joined by two female pirates that led the crowd in a crew competition.  The crowd was divided into two teams and participated in different pirate activities by spinning the "wheel of destiny"–swab the deck, throwing coins into a treasure box, singing sea chanteys and more.  It was a ton of fun, got everyone involved and excited and in the pirate mood! (Our team won, by the way)
Pirate Themed Dinner!
The rotational dining that you enjoy the evening of pirate night is all pirate themed! We had our Pirate Night dinner at the Enchanted Garden on the Dream.  The menu items had fun pirate names and the selection was different from when we ate at that restaurant the evening prior.  The adult menus looked like a treasure map and the children's menu folded into a fun buccaneer's hat. Some yummy menu items included things like seared scallops, Captain Hook's Mahi Mahi, and the Castaway Chicken Breast.  The dessert stole the show with rum soaked chocolate cake, crunch sundaes, and fruit cobblers.
Mickey's Pirates in the Caribbean Party & Fireworks!
This was a fun, family friendly deck party! It featured characters like, Minnie, Mickey, Donald, Daisy, Goofy, Pluto and even–Captain Hook & Mr Smee! For the deck parties, they cover the pools so that everyone can join in on the fun and view the show.  During the show they had some fun items for purchase including a pirate punch drink (non-alcoholic) that came with a fun light up pirate mickey cup, and some glow stick items. The deck party was lots of fun.  Later that evening, there was a show with Jack Sparrow and other pirates on board (he even scaled down from one of the smoke stacks!).  The show was capped off with some amazing fireworks! I could not believe that they were shot off from a cruise ship–they were amazing with great music and a message to boot!  One fun fact is that the fireworks are also made out of materials that don't pollute the ocean–they are biodegradable and fish friendly if they choose to eat them!
Late Night Buffet & a Movie!
After the fireworks, there was a late night buffet hosted in Cabanas!  It was an amazing spread with a taco bar, crepe station, baked potato bar, and….TURKEY LEGS! It was definitely my dad's favorite part of the night because he was able to have one of his favorite park treats on the ship!  My favorite part was looking at all of the hand carved watermelons–the craftsmanship and details were amazing!  After we had eaten entirely too much, we grabbed a pool chair, warm towel, and watched the Pirates of the Caribbean: The Black Pearl!
All in all–it was a fabulous night and participating in all of the activities available to us was so much fun! I'd highly recommend participating in Pirate Night for any family–it was definitely one of the highlights of our cruise!
Are you ready to plan your magical trip? Contact Kimberlie Buxton at Pixie Dust & Pirate Hooks. Click here to submit a quote request.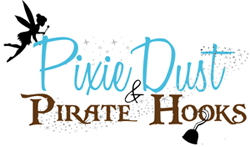 From the moment you contact us, we begin creating magic! Bring all of your hopes, dreams and wishes to us and we can create a vacation perfectly fit for your family. We are the experts. Let us handle everything for you so you can focus on your family!
 Photos by Kimberlie Buxton