As travel for the upcoming summer season starts gearing up, there are now new rules for the Walt Disney World Resort and Disneyland Resort that guests should be mindful of as they plan for their upcoming vacations.
We recommend that guests take the time to review these new policies to help make their trip as successful and smooth as possible when enjoying all that the Disney Parks have to offer!
Strollers
Beginning May 1st, new guidelines will go into affect regarding the size of strollers permitted into the Disney parks. After May 1st, strollers must be no larger than 31″ wide and 52″ long. Many strollers on the market already fall within these guidelines – including many double stroller options. Also as a reminder, wagons are not permitted in any Disney park, and beginning on May 1st, stroller wagons will also not be permitted. These changes will hopefully ease up some congestion in high traffic areas and allow for a better flow within Disney parks.
Smoking Areas
Beginning May 1st, smoking areas will no longer be present within Walt Disney World or Disneyland Resort theme parks, water parks, the ESPN Wide World of Sports Complex, or Downtown Disney at the Disneyland Resort. Designated smoking areas will be outside the entrances to each park and at Disney Springs in Florida. Guests with room or dining reservations at any Disney Resorts will also have designated smoking areas.
Loose Ice
Beginning today, March 28, guests who bring plan to bring a cooler bag or cooler into the parks to hold snacks or drinks will no longer be permitted to have loose ice or dry ice within the cooler. Guests are recommended to bring reusable ice packs in their coolers or cooler bags to keep their items cold while enjoying Disney parks.
For more information regarding these new policies feel free to visit DisneyWorld.com/rulesFAQ or Disneyland.com/rulesFAQ or check with your Pixie Dust and Pirate Hooks agent!
If you are ready to plan your next magical vacation contact Randi Jordan at Pixie Dust and Pirate Hooks.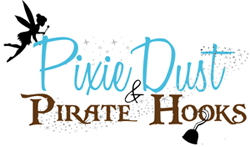 From the moment you contact us, we begin creating magic! Bring all of your hopes, dreams and wishes to us and we can create a vacation perfectly fit for your family. We are the experts. Let us handle everything for you so you can focus on your family!
Photo courtesy of Disney