Quick service dining gives guests at the Walt Disney World resort a wide variety of delicious choices! Lets take a walk on the wild side and talk about some of my favorites at Disney's Animal Kingdom Park!
Flame Tree BBQ
Flame Tree BBQ is located on Discovery Island. This quaint location offers indoor and outdoor seating and some of the best bbq ribs, chicken, and pork on property. If you are having trouble deciding, I highly recommend the combo platter! This meal is enough to share with a helping of ribs, chicken, and pulled pork with a side of baked beans and cole slaw!
Yak and Yeti
Some of you may be familiar with the Yak and Yeti table service restaurant located in Asia. If you are more of a quick service type eater, then you want to check out the Yak and Yeti Local Food Cafes! The teriyaki beef bowl and honey chicken are both high on my list here! If you have a simpler taste in mind give the American kobe burger a go.
Pizzafari
Another favorite at Discovery Island is Pizzafari. Again indoor and outdoor seating is available. On our most recent trip we found a hidden jewel that I will definitely be having again and maybe again! The cheeseburger flatbread is the perfect combination of two foodie favorites, pizza and cheeseburgers. This delicious combo is topped with cheese, pepperoni, lettuce, pickles and tomatoes. Curious? Give it a try, you won't be sorry!
Harambe Market
You might have noticed the fresh fruits and vegetables available just outside the entrance to the Kilimanjaro Safaris. Right next door you will find some out of this world quick service options at Harambe Market. Here you can fill up on grilled chicken skewers,  beef and lamb flatbread, or my favorite- ribs served with green papaya slaw and black eyed pea salad.
Restaurantosaurus
No visit to Animal Kingdom park is complete until you visit Dinoland USA! If you find yourself being a little more of cheeseburger and hotdog kind of person, then you have found the perfect place, Restaurantosaurus! Take a bite out of my favorite the 1/3 lb Angus Bacon Cheeseburger!
Ready to take a walk on "wild" side and visit Animal Kingdom Park? Contact Staci Foster at Pixie Dust and Pirate Hooks.  Click here to submit a quote request.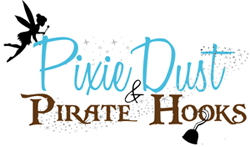 From the moment you contact us, we begin creating magic! Bring all of your hopes, dreams and wishes to us and we can create a vacation perfectly fit for your family. We are the experts. Let us handle everything for you so you can focus on your family!
Photo Credit: Disney Photo Snapper, Walt Disney Travel Company