Who would build a ski resort in sunny Florida? Well, their mistake is our gain as this one time ski resort has melted into a water winterland (or at least that's how the story goes).  Not only does Disney's Blizzard Beach provide thrills for the big kids, but also plenty of pint size fun for your smaller family members!

3. Cross Country Creek
This lazy river is the perfect way to relax and unwind while you watch the polar inspired theming melt away under the Florida sun. This 3,000 foot long route has 7 landings to hop on or off, so grab your family and some innertubes and enjoy the view. Make sure to say Hi to Ice Gator, who is home with a cold. Just watch out for his sneezes!

2. Melt-Away Bay
Melt-Away Bay is located at the bottom of Mount Gushmore and provides short, bobbing waves perfect for leisurely floating. This one acre wave pool is a great place for preschoolers and the whole family alike!

1. Tike's Peak
No need for your preschooler to miss out on all the thrills! For guests 48 inches or shorter, there is Tike's Peak! Slower-moving, scaled-down thrills include: miniature snow-banked slides, side-by-side downhill slides, a mini inner-tube ride, and chutes tunneling through the snow.  The sandy areas surrounding Tike's Peak offer opportunities for sunbathing and sand-castle-making alike!
Disney's Blizzard Beach has adventure for any size!
Don't forget: If you book an agency exclusive with our friends at Pixie Dust and Pirate Hooks, you will be eligible to receive a free admission to the water park of your choice!
Are you ready to plan your magical trip? Contact our friends at Pixie Dust and Pirate Hooks. Click here to submit a quote request.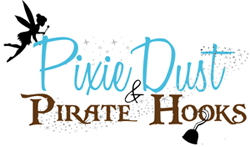 From the moment you contact us, we begin creating magic! Bring all of your hopes, dreams and wishes to us and we can create a vacation perfectly fit for your family. We are the experts. Let us handle everything for you so you can focus on your family!
Photos:  Walt Disney Travel Company