Love to taste your way through the Magic Kingdom? Then this new Taste of Magic Kingdom Park VIP Tour is the perfect tour for you! Experience VIP tastings of classic Disney menu items.
During this 3 hour experience you will uncover the magic behind the meals. Disney chefs and Cast Members will tell stories of how they bring delicious and creative meals to life each day at the park. They will provide the history of food items as well as the "Imagineering" of new items.
You will have the chance to go behind-the-scenes with unprecedented access to backstage kitchens and working areas never seen by guests – until now! See what goes into serving millions of guests each year and interact with the creative experts that make it all happen.
Bring your appetite! Along the way, there will be curated tastings of some of the most popular Magic Kingdom park menu items. These tastings will include an incredible assortment of sweet and savory items. You will also get to sample new Magic Kingdom park food that is still in development.
Your VIP Guides will take care of everything, so you can simply relax and savor the experience. The Taste of Magic Kingdom Park VIP Tour is $99 per person, plus tax and theme park admission is required. This experience is currently offered on Mondays, Tuesdays, Fridays, Saturdays and Sundays. Guests must be at least 12 years old to participate.
Photo courtesy of DisneyWorld.Disney.go.com.
Are you ready to plan your magical vacation? Contact Tracy Pallotta at Pixie Dust & Pirate Hooks. Click here to submit a quote request.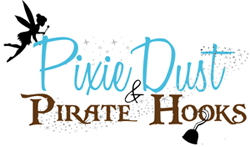 From the moment you contact us, we begin creating magic! Bring all of your hopes, dreams and wishes to us and we can create a vacation perfectly fit for your family. We are the experts. Let us handle everything for you so you can focus on your family!