There is nothing like the feeling of receiving your MagicBands in the mail while awaiting your next Magical Vacation! And, beginning today, Disney Resort hotel guests and new and renewing Annual Passholders have the option to upgrade, for a discounted price, from a complimentary solid-color MagicBand to one of more than 30 new MagicBand upgrade options featuring your favorite Disney characters and designs.
The new MagicBand options can be found by simply logging into your My Disney Experience account and clicking on "My MagicBands and Cards". From there you will have the option to select your complimentary MagicBand available in a variety of colors, or you can scroll through the new designs and select a new option. The upgrade option is available for pre-arrival purchase at a special price that reflects a $14.99 discount off the regular retail cost. The new upgraded MagicBands will be shipped to your home (U.S. addresses only) if ordered 11 or more days ahead of arrival and can be personalized if done so at least 6 or more days ahead of arrival.
Take a look at this video for more information!
Upgraded MagicBands will be sold by Magic Kingdom, Inc. Your credit card will be charged when you place your order. Once personalized, upgraded MagicBands cannot be canceled, returned, refunded or exchanged, even if the hotel reservation is canceled. Personalization not available on certain limited edition MagicBands due to space restrictions. Cancellation of Disney Resort hotel reservations will result in MagicBand orders being canceled; if upgraded MagicBands are ordered and have been personalized at the time the reservation is canceled, the MagicBand order will not be cancelable or refundable and the regular, non-discounted retail price of the upgraded personalized MagicBands will be charged. Pricing of upgraded MagicBands may vary. Selection subject to availability.
Are you ready to plan your next Magical Vacation? Contact Jennifer Reed at Pixie Dust & Pirate Hooks.
Click here to request a quote.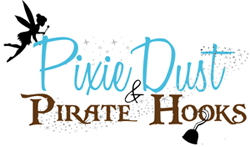 From the moment you contact us, we begin creating magic! Bring all of your hopes, dreams and wishes to us and we can create a vacation perfectly fit for your family. We are the experts. Let us handle everything for you so you can focus on your family!
Photo Courtesy: Disney Parks Blog