On February 24th, three brand-new cones debuted at the Magic Kingdom in Walt Disney World.  These cones are character themed and are definitely picture worthy.  So, make sure your cameras are at the ready before you start eating these ice cream cones! 
The first one is the Hei Hei Cone and it is inspired by our favorite chicken from Moana. This is a blue sugar cone topped with raspberry soft serve, pineapple dole whip, sugar eyes and a sour candy. You will find this cone at Aloha Isle in Adventureland (you can also find my favorite ice cream treat…A Dole Whip Float, yum!). The next cone is the Lost Princess Cone and this one is located at Storybook Treats in Fantasyland. The Lost Princess is a purple cone and it comes topped with lemon soft-serve and a gorgeous display of edible flowers. The last new cone is called "Adventure is Out There "and it is a blue sugar cone topped with mango soft-serve and a candy balloon piece. The "Adventure is Out There" cone is located at Auntie Gravity's Galactic Goodies in Tomorrowland.
I'm not sure which one I will try first on my next trip, but I am going to make sure I have room to try all 3 at least one time! Which cone do you want to try on your next trip to the Magic Kingdom???
Are you ready to plan your magical trip? Contact Kristin Perry at Pixie Dust and Pirate Hooks?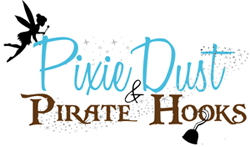 From the moment you contact us, we begin creating magic! Bring all of your hopes, dreams and wishes to us and we can create a vacation perfectly fit for your family. We are the experts. Let us handle everything for you so you can focus on your family!
Photo Credit: Disney Parks Blog
Please follow and like us: