Cuteness Alert! According to Disney Animals, Science and Environment, we have some more baby news to be excited about from Disney's Animal Kingdom Lodge. They were able to share this beautiful photo of Gemma, born just under 160 pounds and nearly 6 feet tall, and her mom Rori. Gemma isn't the only adorable baby we're caring for at Disney's Animal Kingdom Lodge. Another giraffe named Azizi gave birth last month to a male our keepers have named Griffon. We expect to introduce both giraffes on the savanna later this year and hope to share more photos soon.
You can read fun facts about giraffes and learn how you can help save these African herbivores in the wild by visiting DisneyAnimals.com.
---
Are you ready to plan your magical trip? Contact our friends at Pixie Dust and Pirate Hooks. Click here to submit a quote request.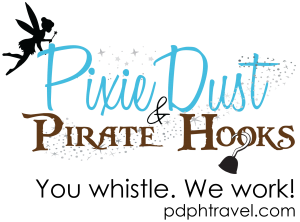 When you book your trip with Pixie Dust and Pirate Hooks, we handle everything from start to finish. We book your resort, all of your dining, fastpasses and special events. We provide a detailed itinerary for your trip with special tips that will make your trip extra magical! Think of us as your personal assistant. We are available anytime to answer questions by phone, email or text.
Photo credit – Disney Animals, Science, and Environment.