One thing I tell EVERYONE is that you absolutely cannot go to Walt Disney World without purchasing the Memory Maker package. It's a sure-fire way to make sure every single-family member is in all the most memorable photos.  Sure, you can take your own camera and ask the Memory Maker photographers to take a photo for you, but can your camera magically put Tinkerbell into the palm of your child's hand? Can it have Sully from Monsters Inc dance across the family photo you had taken in front of the Tower of Terror at Hollywood Studios? Didn't think so! It's well worth the money and you have unlimited access to every single photo that is taken.
Another BIG reason for Memory Maker is you also don't need to worry about lugging a camera all over the parks, or worry about losing it (or soaking it) as you drop down Splash Mountain, or be nervous about leaving it unattended in the parked stroller while you fly through Space Mountain. Memory Maker is an essential part of your Walt Disney World package. The Photopass photographers go above and beyond to make your photos magical. Plus, any photos taken of your family while on a participating ride or at a participating restaurant are also loaded onto your Memory Maker. When you get home, you download all of your magical memories directly onto your computer. There is no per-picture fee. I promise, you won't regret spending a little extra money on those priceless family memories! These photos are what keeps the memories being talked about for years to come!!
---
Are you ready to plan your magical trip? Contact our friends at Pixie Dust and Pirate Hooks. Click here to submit a quote request.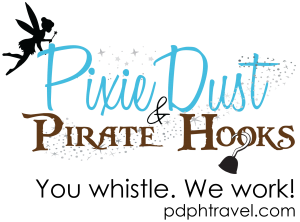 When you book your trip with Pixie Dust and Pirate Hooks, we handle everything from start to finish. We book your resort, all of your dining, fastpasses and special events. We provide a detailed itinerary for your trip with special tips that will make your trip extra magical! Think of us as your personal assistant. We are available anytime to answer questions by phone, email or text.