I am a girly-girl through and through and I'll admit that my heart skips a beat when I find a pretty dress. Now, when you combine pretty dresses with my love for Disney, magic happens!
Today, one of our contributors was visiting Disney Springs at Walt Disney World and saw one of the prettiest and most whimsical dresses I have seen at The Dress Shop on Cherry Tree Lane.
This dress, to me, encapsulates everything we love about Main Street USA. Centered in the dress we see the iconic Train Station that houses the beloved train. We also see City Hall, the Fire Station, Main Street Vehicles (the Jitney) and of course the Horse-Drawn Street Car. Last but not least, this dress features Mickey Mouse Balloons. What trip down Main Street USA is complete without purchasing a balloon, or at least taking a picture of you or your children "holding" all the balloons.
This is the first dress that has been offered with a cardigan as a set. Notice the beautiful horses embroidered on both sides of the cardigan. The cardigan is a nice compliment to this classic whimsical dress.
This dress retails for $178. It is not yet available on Shop Disney but, most are offered online eventually. What do you think of this dress? I for one, LOVE IT!
---
Are you ready to plan your magical trip? Contact our friends at Pixie Dust and Pirate Hooks. Click here to submit a quote request.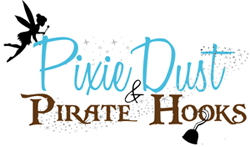 From the moment you contact us, we begin creating magic! Bring all of your hopes, dreams and wishes to us and we can create a vacation perfectly fit for your family. We are the experts. Let us handle everything for you so you can focus on your family!
Photos:  Disney Parks Blog, The Savvy Pixie