Beginning June 30, 2019 celebrate "The Lion King" with an all-new, limited-time, prix fixe dining experience at Jiko – The Cooking Place. Jiko, located at Disney's Animal Kingdom Lodge, transports guests to the heart of Africa.
The new dining experience features an exclusive three-course menu designed as a unique culinary celebration of Simba's story. Throughout dinner, be entertained by talented musicians and vibrant African melodies as well as live performances of the award-winning movie soundtrack.
The menu will feature dishes inspired by The Circle of Life: Nants' Ingonyama, a story celebrating Simba's journey through life. Each dish will follow the lion prince as he grows up, focusing on each stage of his life featuring unique flavors and spices. Begin your exclusive dining experience with the "I Just Can't Wait to be King" starter. This dish is comprised of Young Cedar Creek clam malata, potatoes, pomegranate, and a bone marrow finish, while symbolizing the playfulness of Simba's joyous childhood and his desire to one day become king.
"Be Prepared" for the Main Event. Choose from two entrées: Bone-In Ribeye with hibiscus, nettles, and fregula or Lobster Sosatie with red shrimp, squid, mussels, and fragrant rice. The main dishes are inspired by the eerie elephant boneyard and Simba's courage to persevere through trials and tribulations.
Hakuna Matata, the third course, celebrates the balance as Simba grows up and learns his place in the Pride lands. This dessert includes caramelized orange, chocolate choux, and playful foliage.
Complete your evening with "Can You Feel the Love Tonight?" and enjoy a selection of treats and teas to cap off your meal.
This limited-time prix fixe menu will be available during the dinner period at Jiko – The Cooking Place starting June 30 in addition to Jiko's regular menu. Pricing is $65 per person, tax and gratuity not included, with the option to add your choice of two levels of wine pairings at an additional cost.
Are you ready to celebrate The Lion King? Contact Jennifer Reed at Pixie Dust & Pirate Hooks to plan your Magical Celebration.
Click here to request a quote.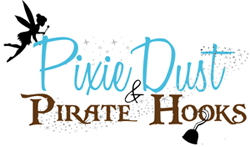 From the moment you contact us, we begin creating magic! Bring all of your hopes, dreams and wishes to us and we can create a vacation perfectly fit for your family. We are the experts. Let us handle everything for you so you can focus on your family!
Photo Courtesy: Disney Parks Blog
Please follow and like us: