Do you have Minnie ears for holidays, special occasions, and matching your outfit? . Disney is paring with several designers to roll out one-of-a-kind Minnie ears and these are all on my "To Buy" list.
Legendary supermodel Hedi Klum has paired with Disney for ears that are coming this fall, as seen below. And in early 2020, another stunning ear headband will hit the shelves from American supermodel and entrepreneur Karlie Kloss.
The creative collaborations don't stop there! Other designers in the collection include HARVEYS, ALEX AND ANI, Loungefly and a design from a galaxy far, far away by Star Wars actress Ashley Eckstein.
Many of the designs in the collection take inspiration from beloved Disney characters and Disney Parks attractions, including an Enchanted Tiki Room-inspired design, and designs by Disney Imagineers such as Kim Irvine, Kevin Rafferty and Joe Rohde.

For those of you looking to get your ears on, check out the jam-packed release schedule, with even more designs to be announced in the coming months:
HARVEYS – May 24th
Betsey Johnson – Summer 2019
ALEX AND ANI – July 5th, 2019
Noah Fine Art – Summer 2019
Kim Irvine – Summer 2019
Her Universe – Summer 2019
SHAG – Summer 2019
Jerrod Maruyama – Fall 2019
Heidi Klum – Fall 2019
The Blonds – Fall 2019
Loungefly – Fall 2019
COACH – Fall 2019
Joe Rohde – April 2020
Vera Wang – Spring 2020
Cupcakes and Cashmere – Spring 2020
Kevin Rafferty – Spring 2020
Karlie Kloss – Spring 2020
John Coulter – Summer 2020
Make sure to like our page and sign up for emails to receive the latest pixie news.
Are you ready to plan your magical trip? Contact Kailey Ryan at Pixie Dust and Pirate Hooks.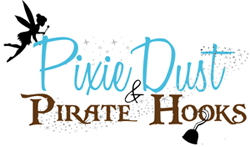 From the moment you contact us, we begin creating magic! Bring all of your hopes, dreams and wishes to us and we can create a vacation perfectly fit for your family. We are the experts. Let us handle everything for you so you can focus on your family!
Picture Credit: Disney Parks Blog