Disney H2O Glow Nights have returned to Disney's Typhoon Lagoon to brighten up your Summer! And now there are more glow elements than ever before!
Food that Glows
Limited-Time Treats that glow have been created just for you this summer! How cute is this Bathtub Party Sundae, available at Happy Landings – Vanilla ice cream, confetti cake, whipped cream, and chocolate rubber ducks topped with sprinkles and served in a novelty bathtub dish.
Fashion that Glows
Immerse yourself in the P-A-R-T-Y atmosphere and wear your complimentary glow wrist band to join in on the fun or purchase a glow-in-the dark T-shirt to make a memorable fashion statement.
Glowing Attractions
Enjoy a shorter wait for your favorite Disney's Typhoon Lagoon attractions. Ride a special H2O Glow Nights tube floating down Castaway Creek and ride Miss Adventure Falls to discover what happens inside the tunnels at night!
Glowing Details
You will be greeted in by glowing neon signage and lighting effects. A colorful projection of the H2O Glow Nights logo completely transforms Mount Mayday and lights up the park. You won't want to miss these unique little touches that amplify your evening.
Get Your "Glow On" on the Dance Floor
Located on the beach next to the Surf Pool, the dance floor is a center point of H2O Glow Nights. Pulsing lights, energetic music and talented performers wearing neon outfits, of course, all play a part in making the dance floor a go-to destination for partygoers!
Disney's H2O Glow Nights will take place on 25 select nights now through August 24, 2019 at Disney's Typhoon Lagoon! Tickets are $59 per person plus tax for adults and $54 per person plus tax for children ages 3 to 9, when purchased in advance. On the days of the event, the ticket price will be $69 per person plus tax for adults and $64 per person plus tax for children. Tickets are not required for children under age 3.
Are you ready to experience all the Walt Disney World Resort has to offer this summer? Contact Jennifer Reed at Pixie Dust & Pirate Hooks.
Click here to request a quote.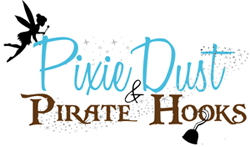 From the moment you contact us, we begin creating magic! Bring all of your hopes, dreams and wishes to us and we can create a vacation perfectly fit for your family. We are the experts. Let us handle everything for you so you can focus on your family!
Photo Courtesy: Disney Parks Blog