The newest store, Globus Mundi, is ready to help with all your wizarding travel needs. Located inside The Wizarding World of Harry Potter – Diagon Alley's, this amazing store is sure to be the new one-stop-shop for those that love to travel!
Across from Carkitt Market in Diagon Alley you won't miss this newest addition with it's bold and bright orange front door. Inside Globus Mundi it is a work of art; it showcases a gigantic wall of clocks that represent different time zones from around the world, countless world maps and vibrant city posters. These are only a few of the amazing sights that can be found inside.
Throughout the store you can find travel necessities galore including wallets, luggage tags, coffee mugs, sweatshirts and so much more. Globus Mundi has a huge selection and will be sure to make your next adventure unforgettable.
Globus Mundi is a must do for everyone, the attention to detail found throughout the store and the unique travel gear selections is truly something that can only be found inside The Wizarding World of Harry Potter.
If you are ready to plan your wizarding vacation to Universal Orlando Resorts contact Alexa Ean at Pixie Dust and Pirate Hooks.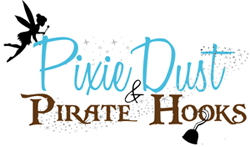 From the moment you contact us, we begin creating magic! Bring all of your hopes, dreams and wishes to us and we can create a vacation perfectly fit for your family. We are the experts. Let us handle everything for you so you can focus on your family!
Photo Courtesy: Universal Orlando Close Up