Living with a dinosaur lover or maybe you always dreamed of becoming a paleontologist yourself? Then you need to make Jurassic Park™ at Universal Orlando's Islands of Adventure a stop on your next visit to central Florida! Step right inside the magic and wonder of these mighty giants!
Rides and Attractions
Pteranodon Flyers
Little jurassic explorers will love the feeling of soaring above park guests on their very own Pteranodon!
Note: Guests over 56" tall must be accompanied by a rider meeting the 36" height requirement.
Jurassic Park River Adventure
Start out your water cruise adoring the baby stegosaurus and it's mother. Thing quickly take a turn when you are thrown off the course and you enter Jurassic Park™. Then standing before you is the mighty T-Rex, your only option out is an 85 foot drop into the dark! Are you willing to take the plunge to escape the mighty T-Rex??
Dining
Thunder Falls Terrace
If you have a big appetite then Thunder Falls Terrace is the perfect stop for you! Choose from rotisserie chicken, BBQ ribs, smoked turkey legs, soups, salads, and more. Then take in the sights as you watch riders get drenched on Jurassic Park River Adventure™ right outside!
The Burger Digs
Sink your teeth into a juicy burger, chicken sandwich, or chicken tenders with all your favorite sides! If you are lucky enough, you may get seated next to the towering T-Rex!
Pizza Predattoria
Choose from fresh-baked pizzas, delicious meatball subs, and chicken Caesar salad. Don't forget to grab an ICEE® in the shaded seating area before you tackle your next adventure!
The Watering Hole
Cool off at The Watering Hole where you will find beer, wine, and frozen cocktails for the adult crowd and fountain sodas and lemonade for the rest of the family! Looking for a little snack, grab some nachos, a hot dog, soft pretzel, or a churro.
Entertainment
Raptor Encounter
Who doesn't love Blue from the Jurassic World movies? Better yet, you can get a photo with the famous velociraptor, if you are brave enough that is!
Shopping
Need something to help you remember your visit into the wild! Then you want to check out Dinostore and Jurassic Outfitters! Here you will find apparel, books, drinkware, and so much more! Don't leave Jurassic Park without checking it out!
Kids Play Areas
Jurassic Park Discovery Center 
Ever wonder what kind of dinosaur you might be? Check out Jurassic Park Discovery Center and do just that! You can test your DNA and experience life as a dinosaur! You will want to make sure you play a round of You Bet Jurassic™. The towering T-Rex takes the stage and you have to make your way over to see the dinosaur eggs in the nursery. If you are there at just the right time, a baby velociraptor may just be ready to make it's debut!
Camp Jurassic
Looking for a little more exploration? Walk through the dark caves and swaying bridges as you explore camp. The roar of dinosaurs rumble the ground and then take your family on in a water fight! Only the best come out dry on this one!
Are you ready to walk with the dinosaurs? Then contact your agent today to plan your Jurassic adventure!
Staci Foster at Pixie Dust and Pirate Hooks.  Click here to submit a quote request.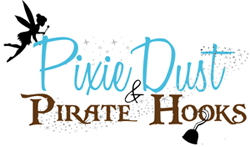 From the moment you contact us, we begin creating magic! Bring all of your hopes, dreams and wishes to us and we can create a vacation perfectly fit for your family. We are the experts. Let us handle everything for you so you can focus on your family!
Photos Courtesy of Disney Photo Snapper