Have you traveled to Walt Disney World around Easter?  If so, you will want to take time to enjoy the beautifully, created Easter eggs in the main lobby of Disney's Grand Floridian Resort and Spa. Words cannot describe these intricate Disney Easter eggs on display!  You simply need to see these in person.
Take a look at our video of our tour:
These stunning chocolate eggs are designed molded, carved, sculpted and painted by the pastry team at this resort.  The process begins months before these eggs adorn the lobby of the resort.
We love how classic Disney movies come to live aside new films. The BB-8 Egg is a fan favorite for sure! We love the Fox & the Hound Egg.
The designs for these eggs are inspired by Disney characters and films and are truly a work of art.
Do you have a favorite egg?
Are you ready to plan your magical trip? Contact Sara Russo at Pixie Dust and Pirate Hooks. Click here to submit a quote request.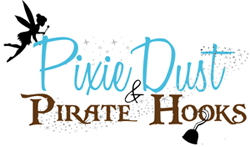 From the moment you contact us, we begin creating magic! Bring all of your hopes, dreams and wishes to us and we can create a vacation perfectly fit for your family. We are the experts. Let us handle everything for you so you can focus on your family!