Fans familiar with the distinctive dinner that takes place in Animator's Palate restaurant can now bring home a piece of the magic. The Animator's Palate merchandise collection is inspired by the unique show that takes place aboard all Disney ships having characters come to life before your eyes.
This imaginative home collection includes sketches of favorite characters inspired by the restaurant theming and includes 14 different home dining items. Plates, bowls, coffee mugs, cups, wine glasses, coasters and more feature a "learn to draw" art style.
Matching child and adult aprons, interactive placemats, and an ice pop set are also part of this playful collection. Kids can show their artistic side as well with a meal set consisting of a palate plate, cup and paintbrush utensils.
All ages are encouraged to channel their inner artist with the use of several sets of included drawing markers. This dining collection comes to life with color just as the sketches on the restaurant walls. The fun never stops and the creativity can continue because these markers wash off with soap and water.
Experience the animation magic at home when you grab this whimsical collection on your next Disney cruise!
---
Are you ready to plan your magical trip? Contact Emily Michaels-Quinn at Pixie Dust and Pirate Hooks. Click here to submit a quote request.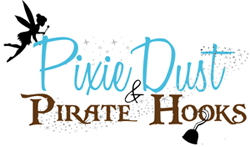 From the moment you contact us, we begin creating magic! Bring all of your hopes, dreams and wishes to us and we can create a vacation perfectly fit for your family. We are the experts. Let us handle everything for you so you can focus on your family!
Photos : Disney Parks Blog