As the seasons change at the Walt Disney World Resort, so too, does the menus at some of our favorite vacation destinations! Magic Kingdom Park has gotten a fresh array of delicious new snacks for your springtime enjoyment with even more new offerings coming soon!
Over at the Main Street Bakery, the new Flower Crown Cupcake is delighting guests with it's seasonal toppings that match a hot new Minnie Mouse headband. The cupcake is vanilla-flavored with a raspberry buttercream filling topped with a buttercream flower crown and hard candy Minnie ears.
Now you're probably thirsty and need a drink! Why not try the refreshing new Mint Julep Lemonade Slushy. This slush is non-alcoholic and comes with a mojito-flavored syrup garnished with a cherry, mint and lemon wedge. This new drink can be found at Casey's Corner where you can also get a taste of the hot dog of the month. There are still a couple of days left to try March's flavor – the Greek Hot Diggity Dog; or you can wait until April to try the new Cuban Hot Diggity Dog topped with mojo pork, relish, swiss and mustard. You can even add those topping to an order of fries if that's more your speed!
After that hot dog at Casey's Corner, I think it's definitely time for dessert and you don't have to travel far to try some new ice cream options at the Plaza Ice Cream Parlor. March's ice cream of the month is Dulce de Leche and April's flavor will be cookie dough! Need a little more than "just" ice cream? Try a new Brownie Sundae or Apple Blossom Sundae instead! There are also some new milkshake options next door at the Plaza Restaurant. The Coffee Mint Milkshake will be leaving the restaurant, but the new, Caramel Turtle Milkshake will be replacing it for the month of April – yum!
Moving over to Fantasyland, Pinocchio's Village Haus has added an Italian Cream Cake to it's dessert menu. It's a lemon cake with cream cheese icing, toasted coconut, and a white-chocolate piece featuring none other than Jiminy Cricket! This restaurant also offers a flatbread pizza of the month and, since April is National Grilled Cheese month, the chefs felt it was best to celebrate with a Grilled Cheese Flatbread. This pizza will come with ricotta, mozzarella, Parmesan, swiss and cheddar cheeses served with a side of tomato basil soup for dipping!
We are finally getting a sneak peek of the new dessert trio that will be offered at Be Our Guest restaurant this summer! It will have a raspberry macaron with lemon filling and fresh raspberries, a whole maraschino cherry dipped in dark chocolate with hazelnut topping, and a white chocolate Chip cup filled with the famous Grey Stuff – it's delicious! At Gaston's Tavern you will find a new Smoked Turkey, Swiss and Cranberry Aioli sandwich, in addition to a new Ham, Brie and Grain Mustard sandwich.
If you're not stuffed yet head on over to Tomorrowland to try the new dessert featuring Sonny Eclipse – a cookies and cream cheesecake topped with chocolate, galaxy sprinkles, and a white chocolate piece featuring Sonny himself. If you need something a little "healthier" to wash down all these delicious treats Columbia Harbour House has a new shrimp wedge salad to help cleanse the palette.
Lastly, everyone's favorite refreshing snack stop, Sunshine Tree Terrace, has added a few new options to the menu! The famous Citrus Swirl, a frozen orange juice slushy swirled with vanilla soft-serve ice cream, has been joined by the new Orange Cream Swirl! This new offering twists together vanilla soft-serve ice cream with Orange Dole® soft-serve to create the ultimate citrus treat! Both are now available in a cup or as a float with a refreshing orange soda.
So….who's hungry?!?
If you are ready to plan your next magical vacation contact Randi Jordan at Pixie Dust and Pirate Hooks.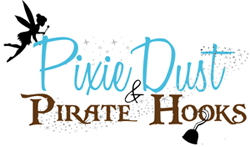 From the moment you contact us, we begin creating magic! Bring all of your hopes, dreams and wishes to us and we can create a vacation perfectly fit for your family. We are the experts. Let us handle everything for you so you can focus on your family!
Photos courtesy of Disney