Imagine towering glaciers, miles and miles of forested shores and wildlife-filled waters.  If that's the view of your dreams then an Alaskan voyage is just what you're looking for in your next getaway!
With over 40 years of sailing Alaska, Princess Cruises hosts more guests to Alaska than any other cruise line.  Their 9 Alaskan itineraries from April to September of 2018 include 15 unique ports of call and over 100 departures, providing a variety of options for their guests.
Alaskan cruises depart from Seattle, Washington; Vancouver, British Columbia; Anchorage (Whittier); San Francisco and Los Angelos, California.
Ports of Call include Juneau, Icy Straight Point, Skagway, Ketchikan and Victoria, B.C. 
Guests will experience Alaska while onboard and ashore!  The North to Alaska program brings local culture, personalities and food onboard to immerse guests in all Alaska has to offer.  Watch Alaskan lumberjacks in action, dine in fresh seafood or hear tales from the Deadliest Catch!
While ashore passengers can have adventures unique to Alaska.  Fish for halibut or King salmon with expert anglers; fall in love with the charm of small towns; attend a native dance performance; and observe magnificent animals in their natural habitat.  In Denali's National Park you can see the "Big Five":  brown bears, wolves, moose, Dall sheep and caribou.  And don't forget about whale watching!
Each Alaskan itinerary is also guaranteed to bring you up close to at least one breathtaking glacier!  And with Princess's "More Ashore" program, itineraries include late night departures of 9 p.m. or later giving guests the most time possible to explore the beauty of Alaska.
Guests that want to experience both land and sea to the full extent are encouraged to book an Alaska Cruisetour.  A cruisetour includes a 7 Day Voyage of the Glaciers Cruise, scenic rail travel, and 3-8 nights of exploring Alaska by land, with stays at Princess-owned wilderness lodges.
If you'd like to take an inside look at the Best of Alaska, click here:   Explore Alaska with Princess Cruises
Ready to soak up the beauty of Alaska, contact Jennifer Reed at Pixie Dust & Pirate Hooks.
Click here to request a quote.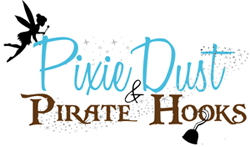 From the moment you contact us, we begin creating magic! Bring all of your hopes, dreams and wishes to us and we can create a vacation perfectly fit for your family. We are the experts. Let us handle everything for you so you can focus on your family!
Photo Courtesy:  Princess Cruises and The Reed Family