Cinderella's Royal Table has always been a favorite character dining experience for guests of Magic Kingdom Park. And beginning in August, it will be even more *Magical*!
Beginning today (May 2) guests can book the all-new Signature Celebration Package at Cinderella's Royal Table. This Royal Experience includes a delicious dinner at Cinderella's Royal Table followed by reserved "Happily Ever After" fireworks viewing in the West Plaza Garden and an invitation to the After Fireworks Dessert Party at Tomorrowland Terrace.
Make your grand entrance into Cinderella's Castle as you are welcomed by Cinderella and her Prince Charming! Kings and Queens can enjoy a sparkling glass of wine, while Princesses and Princes sip a non-alcoholic specialty beverage. As you dine, Cinderella's Royal Princess friends will come to your table for pictures.
After dinner you will receive a beautiful box of Cinderella-inspired confections to commemorate your time dining in Cinderella's castle! Next, you will move on to your reserved viewing area for the spectacular Happily Ever After Fireworks display. Finally, end your enchanting evening with a dessert party of Cinderella-inspired desserts.
This all-new Signature Dining Experience is the Perfect way end your day at Magic Kingdom Park. Or, add a little extra magic to celebrate a birthday, anniversary or any other special occasions!
This new package is currently only offered during one seating at Cinderella's Royal Table, and reservations are limited and highly recommended. The cost of this experience is $199 plus tax and gratuity for adults and $169 plus tax and gratuity for children.
Are you ready to dine with Royalty? Contact Jennifer Reed at Pixie Dust & Pirate Hooks to plan your Magical Celebration.
Click here to request a quote.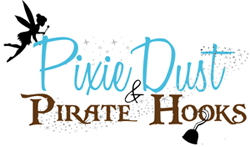 From the moment you contact us, we begin creating magic! Bring all of your hopes, dreams and wishes to us and we can create a vacation perfectly fit for your family. We are the experts. Let us handle everything for you so you can focus on your family!
Photo Courtesy: Disney Parks Blog
Please follow and like us: