If you are obsessed with Mickey and Dooney & Bourke purses then keep reading. Dooney & Bourke will be celebrating ten years of Disney-inspired designs with the release of new designs for the 10th anniversary bags and the re-release of "Disney Sketch" and "Mickey Balloons" – two of the original prints that were released ten years ago and they will now be available in new color combinations. Each of the anniversary patterns has a special hangtag and dustcover. In addition, a few favorite silhouettes have been released from the vault.
On Friday, October 11 from 9:00AM to 11:00AM these bags will be released at Ever After Jewelry Co. & Accessories in Disney Springs (Park in the Lime Garage, which is in the heart of Town Center and this garage is closest to the store).  Guests who make any Dooney & Bourke purchase during the event will receive a complimentary Dooney & Bourke small zip pouch, while supplies last, and you will also have the chance to meet Ian Ray, the Creative Director for Dooney & Bourke. 
Are you ready to plan your next trip to Walt Disney World? Contact Kristin Perry at Pixie Dust & Pirate Hooks!!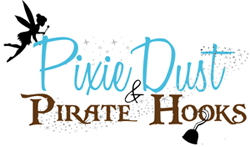 From the moment you contact us, we begin creating magic! Bring all of your hopes, dreams and wishes to us and we can create a vacation perfectly fit for your family. We are the experts. Let us handle everything for you so you can focus on your family!
Photos Courtesy of Disney Parks Blog