Last November, my family went to Mickey's Very Merry Christmas Party for the first time.  And it was-Very Merry!  Here are 3 of my favorite things about our night celebrating the holidays with Mickey and his friends.
A Totally Tomorrowland Christmas!
This stage show, located on the Rockettower Plaza Stage, was my favorite stage show of the night!  The show started at 7:45 pm, so we showed up about 20 minutes early.  It was not crowded at all and we were able to sit right up front.  Plus, this show was filled with unique characters and starred Buzz Lightyear, Mike Wazowski and Stitch as Santa Claus!  Complete with Christmas songs and even snow-this Christmas Party stage show is "totally" worth the visit.
Moana
Mickey's Very Merry Christmas Party is filled with unique character experiences!  But for us, it was all about meeting Moana!  Taking a break from her adventures at sea, Moana was visiting Christmas Party goers in Adventureland near the Swiss Family Robinson Treehouse.  We lined up to meet her at about 6:15 pm and it probably took us about an hour to have our turn.  But, it was definitely worth the wait.  Especially since this was our only chance to see our favorite Disney character.
Mickey's Once Upon a Christmastime Parade
If you love Disney and you love Christmas-this is THE parade for you!  We found a seat in Liberty Square about 30 minutes before the parade began and had some hot chocolate while we waited.  There are SO many characters in this holiday parade!  The Seven Dwarfs, Wreck-It-Ralph, Woody and Jessie, Disney Princesses with their handsome Princes and of course Mickey Mouse and Minnie Mouse.  Make sure you are on your best behavior, too, because Jolly Saint Nick himself takes a break from his busy schedule to join in the festivities.         
And, don't forget!  Our friends at Pixie Dust & Pirate Hooks want to save you money on your Magical Holiday Vacation!  Take a look at their Amazing Agency Exclusive Offers!
Thanksgiving 2018 Exclusive Offer
Christmas 2018 Exclusive Offer
If you are ready for Mickey's Very Merry Christmas Party 2018, contact Jennifer Reed at Pixie Dust & Pirate Hooks.
Click here to request a quote.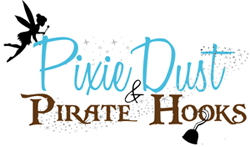 From the moment you contact us, we begin creating magic! Bring all of your hopes, dreams and wishes to us and we can create a vacation perfectly fit for your family. We are the experts. Let us handle everything for you so you can focus on your family!
Photo Courtesy:  Jennifer Reed; The Walt Disney Travel Company