Mickey's Very Merry Christmas Party is a rite of passage for some.  There are some families that consider this a MUST do every holiday season, and some that may not want to put out the extra cost to attend.  Maybe you are wondering what all the fuss is about, why spend the money on an extra ticket when you already spend so much on tickets already?  Well we have your answers here.  This year we spend time at MVMCP documenting everything we could, so we can give you the answers you are looking for.
The first thing I want to mention is that there is SOOOO much to offer at MVMCP.  You can spend time visiting hard to see characters, watching shows and parades, getting the free goodies that are handed out throughout the park, or even enjoying little to no wait times on the rides.  I am going to cover each of these topics so you can decide what is right for your family when you attend the party.  The #1 thing you need to do before you attend is have a plan.  Have a look at the park map shown below and decide what is most important for your family.  Is it characters, or shows and the parade, or some other combination?  I have found that it is impossible to do everything, there is no way to see all the shows, visit all the characters and everything else.  Your plan does not need to be rock solid, but just have an idea of what are your top 3 things, and then at least you have a starting point.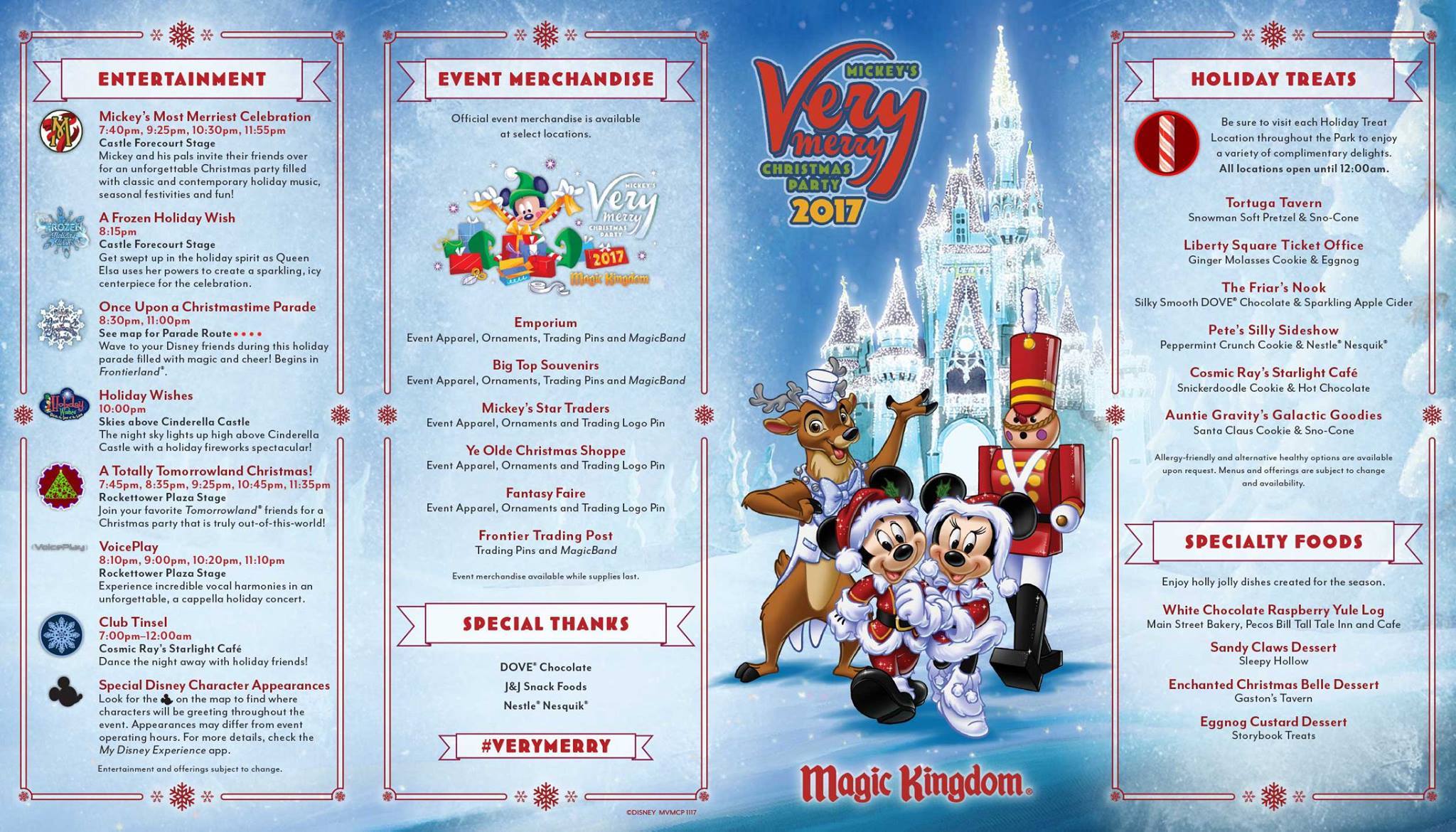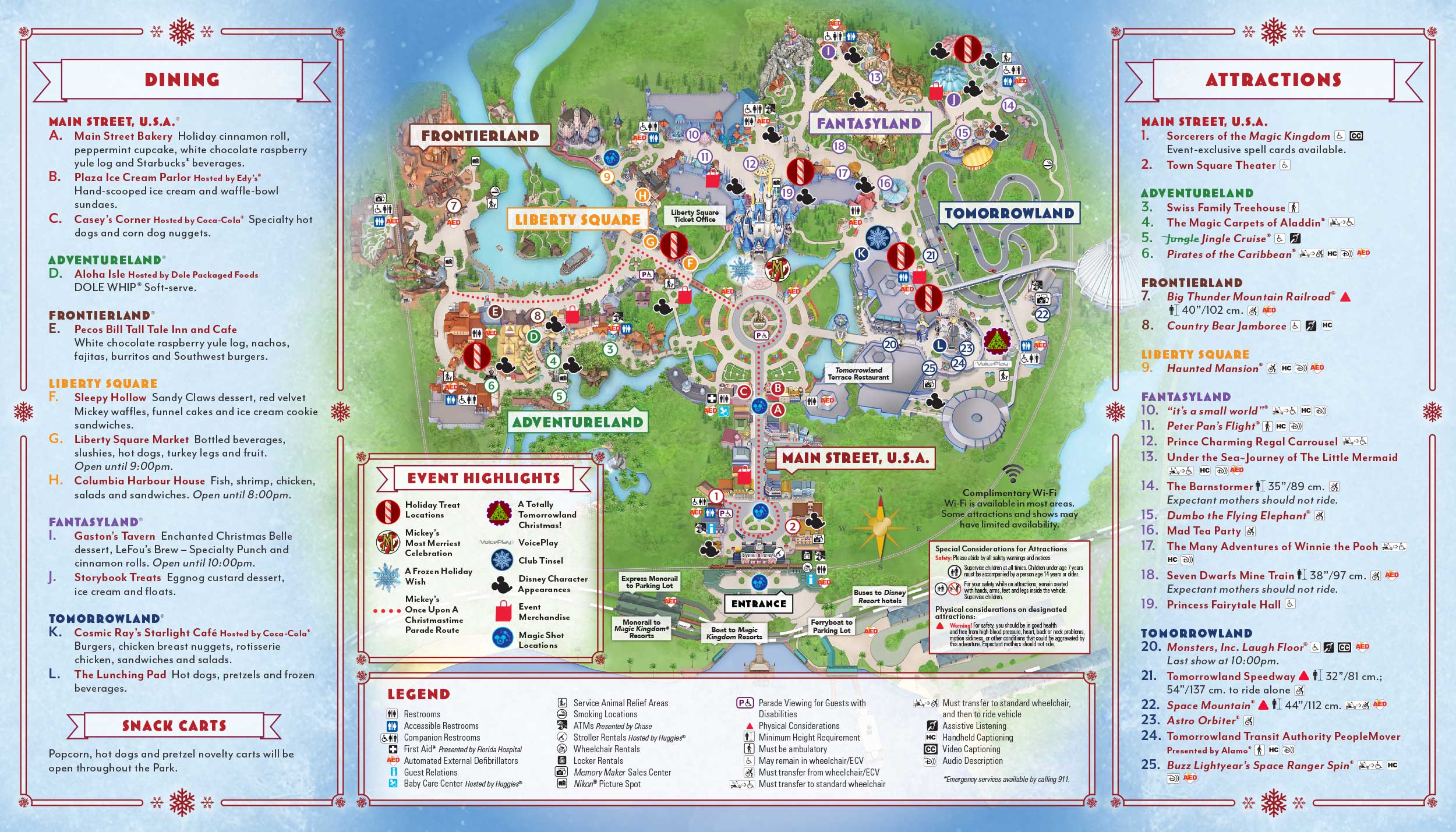 Now that you have seen the maps, and you know what to expect, you can start to get an idea of what is important.  So lets talk about each of the different categories of activities.
Parade and Shows
These are my favorite part of MVMCP, but you have to be prepared to see them, and also enjoy them, especially if you have little ones.  The party entertainment is very popular, and not so easy to enjoy if you walk up at the very last minute and expect to get a front row spot for your little one to see.  With a little prep and planning though, this can be one of the most memorable experiences you have at the party.
Once Upon A Christmastime Parade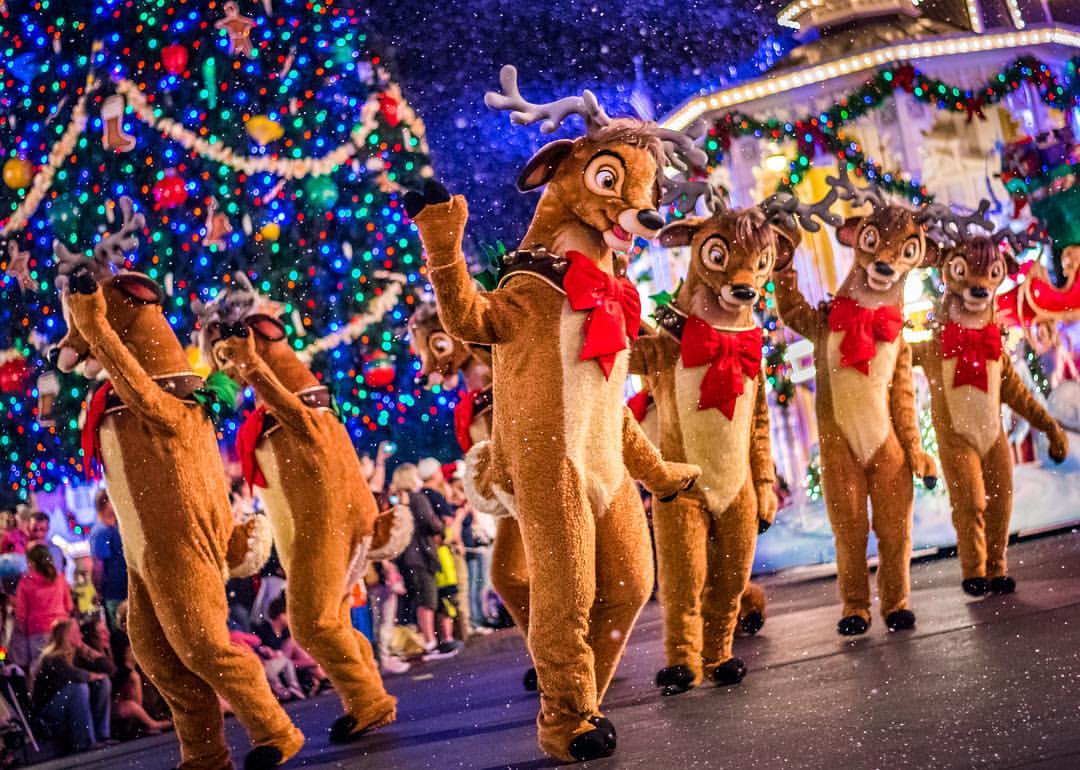 This parade is probably the most popular parade that Disney offers, and because of that, it can be hard to get a good view of everything.  Some people camp out for 2-hours before the party starts to get that perfect spot to see the parade.  I know this, because I am one of those crazy people.  That being said, it is SO worth it!!!  You certainly do not need to camp out for that long, but I do recommend starting to look for a spot 45 minutes to an hour before the parade.  This will give you time to relax, enjoy the holiday music playing on the loud speakers, enjoy some snacks, and if you find a spot on Main Street, even enjoy the snow!
About 10 minutes before the parade starts you will see some of the cast members come out and start doing some singing and dancing to entertain the crowd while they wait.  Then you just sit back, enjoy the holiday spirit in the air, and enjoy the parade.  It is simply AMAZING!  If you happen to miss the first parade, or struggle to get a good spot, do not worry, the crowds typically die down by the second parade, so you can try again after the fireworks.
A Frozen Holiday Wish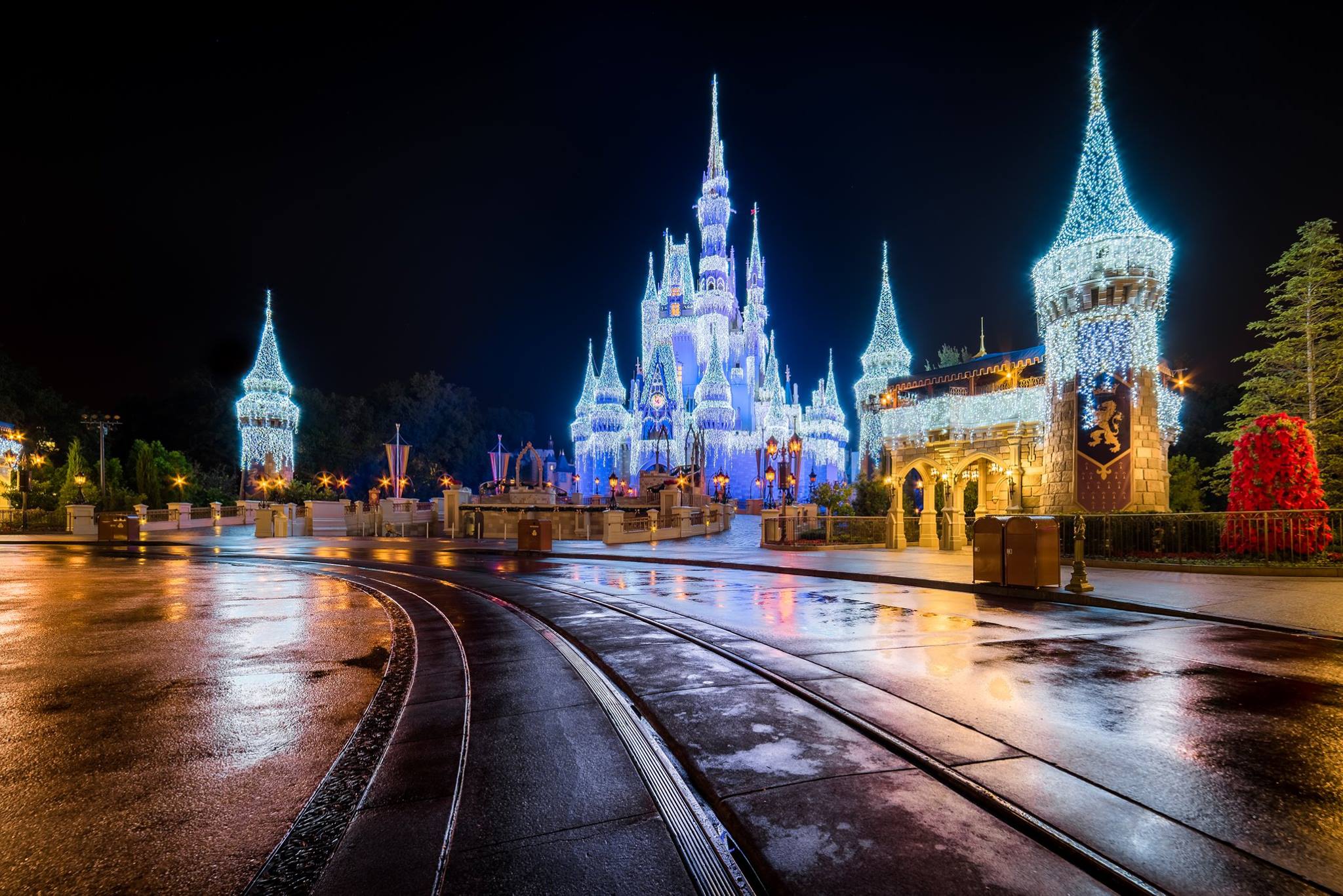 This happens at 8:15 pm right before the first parade.  It is a pretty quick (about 8 minute) production where Anna and Elsa are the host.  At the end of their performance Elsa lights the castle and you can see the castle come alive with all the twinkling lights.
Mickey's Most Merriest Celebration
This stage show occurs 4 times during each party, so you will have several opportunities to view it.  It is a wonderful show that combines singing, and dancing of all your favorite characters in their holiday attire.  To top it off you even get some amazing projections on the castle.  This show is hard to see if you are far away, so if you love the shows and characters, this is well worth watching.  You will find it easier to get up close and enjoy this show if you watch it AFTER the fireworks.  You will find that most of the crowd leaves immediately following the fireworks, so this gives you the opportunity to move in close and enjoy the show.
Holiday Wishes
This only occurs once during every party at 10:00 pm.  You can enjoy fireworks to your favorite holiday music.  Get ready because fireworks will be exploding all around you, and this is definitely a show to watch.  Fun tip, there is not much projections on the castle here, so do not feel like you have to be up close to see anything, sometimes you can take in the fireworks better for this show from a little farther back.
Holiday Treats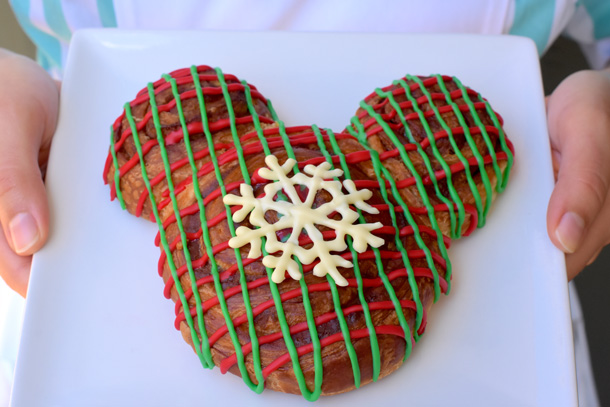 One of the best parts of MVMCP is you get free drinks and treats!  Yes, you heard me right, there are treats all over the park that are included in your ticket price.  You just need to look for the big blown up Candy Cane pillars throughout the park, and that is your signal that you need to grab your free treat.
Here is the list of treats and where you can find them:
Tortuga Tavern in Adventureland – Snowman Soft Pretzel and Sno-Cone
Aunty Gravity's Galactic Goodies in Tomorrowland – Santa Claus Cookie and Sno-Cone
Cosmic Ray's Starlight Cafe in Tomorrowland – Snickerdoodle Cookie and Hot Chocolate
The Friar's Nook in Fantasyland – Silky Smooth DOVE® Chocolate and Sparkling Apple Cider
Pete's Silly Sideshow in Fantasyland – Peppermint Crunch Cookie and Nestle® Nesquik®
Liberty Square Ticket Office – Ginger Molasses Cookie and Eggnog
I have found that during the end of the night, some of the offerings may be adjusted if something runs low.  That being said, the lines for treats and goodies are virtually nothing at the end of the evening, so you can walk right up and grab your goodies with no waiting, which is nice.
Characters
There are many hard to find characters at the parties, there is no way to see them all, but we do recommend if this is important that you prioritize which ones you would like to see, and get in line for them early.  Most of the characters do have long lines, with a few popular characters having lines that are typically longer then 60 minutes.  I have listed them in order of typical longest wait to shortest wait.  A quick tip is to get in line very early for characters, or right before the party is ending, as the lines will be shorter at that time as well.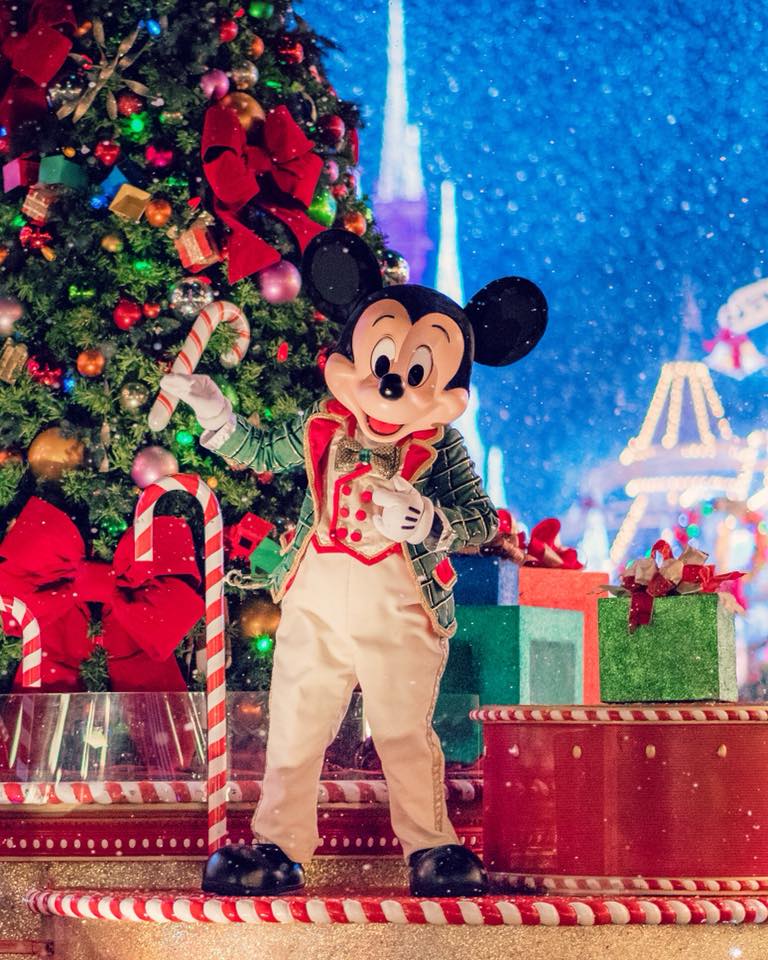 Moana – Adventureland  – Moana is very topical and VERY popular.  If she is on your must do list, be sure to get in line early.  You will see people rushing to meet her as soon as gates open for the party.
Jack Skellington as Sandy Claws – Storybook Circus – This holiday version of Jack Skellington is very rare and you only see him dressed this way during MVMCP.  His line is typically very long, so be sure to get in line early.  He also tends to spend longer with each interaction which is fun, but contributes to the long line.
Seven Dwarfs – Fantasyland near Mine Train – these guys are so much fun to meet, and the only way you will get them all together like this is at MNSSHP or MVMCP, be sure to get in line early if they are on your must do list.
Princesses with their Princes – Meet all the leading ladies and their princes at Princess Fairytale Hall. Snow White is in Fantastyland near Princess Fairytale Hall. Again these beautiful princesses are very hard to get with their princes, so they are very popular.  Another one to get in line early for.
Nick Wilde & Judy Hopps – Tomorrowland
Donald, Scrooge McDuck, Daisy, Minnie – Storybook Circus
Peter Pan and Wendy – Adventureland
Aladdin & Abu or Jasmine & Genie – Adventureland – Right across from the Magic Carpet Ride
Goofy in his Santa Outfit – near Fantasyland near the Barnstormer roller coaster
Big Al, Liverlips, Shaker and Wendell – Frontierland
Mary Poppins, Bert, & Penguin – Town Square
Merida – Fairy-tale Garden, to the right of the castle
Gaston – near Gaston's Tavern in Fantasyland
Ariel – in Ariel's Grotto in Fantasyland
Tigger and Friends – Fantasyland near Many Adventures of Winnie the Pooh – The line for these characters gets much shorter later in the evening
Santa Claus – Town Square  – Popular but not a priority, you can see Santa during the day as well.
Mickey Mouse – Town Square Theater – Popular but not a priority, you can see talking Mickey during the day as well.
Tinker Bell – Town Square Theater – Popular but not a priority, you can see Tinkerbell during the day as well.
Captain Jack Sparrow – Adventureland – Popular but not a priority, you can see Captain Jack Sparrow during the day as well.
Hopefully this helps you in your search for how to tackle the MVMCP.  Just remember, if you walk in with a little bit of a plan, the entire night will go more smooth and better meet your expectations.  Tell us what you think, what is #1 on your must do list for MVMCP?
---
Are you wishing you had booked a trip to visit MVMCP in person, well do not fret!  Contact our friends at Pixie Dust and Pirate Hooks, and they can help you! Click here to submit a quote request.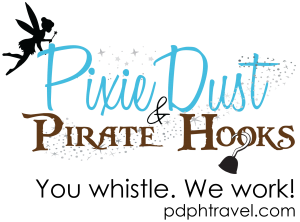 When you book your trip with Pixie Dust and Pirate Hooks, we handle everything from start to finish. We book your resort, all of your dining, fastpasses and special events. We provide a detailed itinerary for your trip with special tips that will make your trip extra magical! Think of us as your personal assistant. We are available anytime to answer questions by phone, email or text.
Pictures courtesy of WDW Shutterbug